Back
Culina Ristorante and the Reimagined Culina Caffè at Four Seasons Hotel Los Angeles at Beverly Hills Proudly Set the Stage for Guests to "Live Like an Angeleno"
A new year-round activation featuring an extraordinary sensory experience of coffee and art to be launched with a "Live Like an Angeleno" coffee program featuring local Los Angeles-based artists
April 21, 2021,
Los Angeles at Beverly Hills, U.S.A.
Four Seasons Hotel Los Angeles at Beverly Hills announces the relaunch of Culina Ristorante + Caffè. formerly known as two separate restaurants Culina and Vinoteca. Enhancements made include The Spumanti Room, a brand-new private dining space as well as a brand-new dining patio up front. The new "Live Like an Angeleno" experience launches at Culina Caffè this April, encouraging guests and locals to experience a new coffee program featuring unique coffee cup artwork created by local Los Angeles-based artists.
"Los Angeles is a city powered by the senses with rich and diverse choices in food, film, art, music and culture," says Michael Newcombe, General Manager of Four Seasons Hotel Los Angeles at Beverly Hills. "At Culina Caffè these ideas converge in a space that brings coffee, art, music and film together in a way that welcomes the community and encourages the creativity of those connections. Here at Four Seasons Hotel Los Angeles at Beverly Hills, we are proud to showcase talents from all of the segments that personify the spirit of Los Angeles."
To complement the coffee cups, the Hotel's talented baristas will feature their craftsmanship offering one-of-a-kind coffee designs. In addition, Culina Caffè guests will enjoy artist installations displayed throughout, curated by leading art dealer Afrodet Zuri. The launch of the coffee cups begins with the well-known Global Angel Wing's artist, Colette Miller, followed by the Hotel's resident Artistic Floral Designer Jeff Leatham, followed by actor and accomplished artist Billy Zane and visual artist Sharon Barnes. The activation will continue throughout the year with different artists brought in by Afrodet Zuri.
Colette Miller is an American visual artist from Richmond, Virginia. She is best known in Los Angeles for her street art called the "Global Angel Wings Project." Created in 2012 to "remind humanity that we are the angels of this Earth," Miller has created and installed angel wings in countries ranging from Kenya to Mexico, Cuba, France and Australia, earning her international and critical renown. Miller's unique artwork along with an angel wings display will be available throughout Culina Caffè for guests to stop in and take pictures from April to June 2021.
Colette Miller says: "I'm so happy to be collaborating with Four Seasons Hotel Los Angeles at Beverly Hills on their new Live Like an Angeleno local artist series, and excited to continue to showcase my interactive angel wings artwork to the public at this new location to remind humanity that we are the angels of the Earth."
Billy Zane is an American artist most often associated with his celebrated work in cinema as an actor. However, the raw authenticity of his paintings, drawings, and photography, which have been exhibited around the world in Los Angeles, London, Budapest, Milan and Miami have now made their way into a very special unique collector edition jigsaw puzzle to help support COVID-19 relief efforts. Zane's coffee cup design and artwork will be on display at Culina Caffè for guests to view from June to July 2021.
Billy Zane says: "I'm so grateful to be invited to participate in this inspiring initiative by Four Seasons Hotel Los Angeles at Beverly Hills and Culina Ristorante + Caffe, bringing art to the public via this unique but pervasive delivery system. The coffee cup as canvas is inspired. I remember being comforted by the familiarity of the Grecian decorative trim upon diner take away coffee cups in NYC. I would rotate them and admire the simple balance and beauty of blue and yellow and white in an endless continuum, while always associating the imagery to the smell of warm coffee in the morning. I had actually imagined painting for such a surface and haza! Here we are. Talk about an eye opener."
Jeff Leatham is an American floral designer and is the Artistic and Creative Director at Four Seasons Hotel Los Angeles at Beverly Hills, Four Seasons Hotel George V, Paris and Four Seasons Hotel Philadelphia. He was awarded the Chevalier Legion of Honour from the nation of France in 2014. Leatham's work is a combination of his love for flowers, people and design. His creations are bold statements – using shape, colour and simplicity to produce a dramatic effect. Breath-taking and unforgettable, Leatham's signature designs are always integral to the setting, never merely a backdrop. Leatham's coffee cup design will be available at Culina Caffè from August to September 2021.
Jeff Leatham says: "I'm so excited to have inspired the new coffee cup at Four Seasons Hotel Los Angeles at Beverly Hills. I hope these beautiful blooms inspire and wake people up like flowers do me."
Sharon Barnes is a Los Angeles-based interdisciplinary visual artist who works primarily through social abstraction. Barnes moves freely between two and three-dimensional space, fusing traditions of painting, sculpture and installation while creating richly complex visual vocabularies. Interested in the potential of objects to speak about the human condition, she employs a broad array of materials to construct her works. Through metaphoric processes and poetic materiality, she suggests places of fracture and reparation, displacement and reposition, layer and overlap in reference to memory, the body, and various matters of race and gender. Barnes' coffee cup design and artwork will be on display at Culina Caffè from October to December 2021.
Sharon Barnes says: "I'm always thinking about intersections, and how convergences can create forms and spaces of resistance, resilience and beauty."
Exhibition Calendar*
Colette Miller - April 30 – June 13, 2021
Billy Zane - June 18 – July 31, 2021
Jeff Leatham - August 6 – September 30, 2021
Sharon Barnes - October 7 – December 5, 2021
In an effort to give back to the community, Culina Caffè's new coffee program at Four Seasons Hotel Los Angeles at Beverly Hills in partnership with our coffee suppliers will make a monthly donation to a local organization.
Culina Caffè is open daily for coffee starting at 8:00 am. For more information, please call (310) 860-4000.
*Dates subject to change
---
---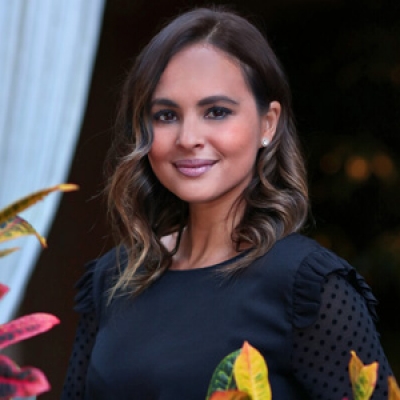 Melanee Shale
Marketing and Communications Manager
300 South Doheny Drive
Los Angeles, California 90048
USA
---
Four Seasons Hotel Los Angeles at Beverly Hills
PRESS KIT

Visit Four Seasons Hotel Los Angeles at Beverly Hills Website