Back
Bring Baja to the Table This Father's Day with Authentic Mexican Recipes from Four Seasons Resort Los Cabos
Executive Chef Tonatiuh Cuevas shares recipes for aguachile, lobster tacos, and coconut flan with libation recommendations from Director of Food and Beverage Jorge Castillo
June 11, 2020,
Costa Palmas, Los Cabos, Mexico
This Father's Day, whisk Dad away to Four Seasons Resort Los Cabos at Costa Palmas via taste and flavour with a menu that includes authentic Baja recipes from Executive Chef Tonatiuh Cuevas - fresh aguachile, signature lobster tacos, and creamy coconut flan.
"Our sense of taste allows us to travel without ever leaving home," says Cuevas. "These recipes are some of our guest's favourite dishes; they are easily created at home and will bring a slice of Los Cabos wherever they are served."
To celebrate the occasion, Director of Food and Beverage Jorge Castillo shares recommendations and recipes for libations to pair with each course. Aguachile pairs perfectly with local Mexican winemaker Casa Madero V Rosado; lobster tacos are best washed down with the Resort's signature Mezcarita, and Baja La Surfa, a local beer from Baja Brewing Co.
Mezcarita (for 1)
1.5 oz mezcal
1 oz orange juice
¾ oz Ancho Reyes (red pepper liquor)
½ oz lemon juice
Add all ingredients to a shaker with ice, shake well and strain over ice into a lowball glass or serve straight up in a martini glass.
Shrimp Aguachile (serves 2-3)
14 shrimps, medium size, cleaned cut in half
4 oz fresh lime juice
2-3 serrano peppers
1 garlic clove

1 Persian cucumber, seeded, thinly sliced
¼ red onion in thinly slices
Salt and pepper to taste
Olive oil to taste
1 avocado for garnish

Cilantro leaves (optional)
In the blender, add lime juice, garlic, two serrano peppers (add another serrano if more spice is desired), and salt. Blend and reserve in the fridge.
Place the open, fileted shrimps on a flat plate and cover with the aguachile sauce. Add salt, olive oil, cucumber, onions, and a little pepper. Marinate 3-4 minutes, decorate with the avocado and cilantro leaves.
Lobster Tacos (serves 4)
1 lb. fresh lobster tails in shells
½ c refried beans
¼ c shredded chihuahua cheese
¼ c sour cream
2 cloves garlic, minced
1 Tbsp butter
2 limes
Salsa (Huichol or Cholula*), to taste
½ red cabbage, julienned
½ green cabbage, julienned
2 carrots, julienned
Salt and pepper, to taste
4 tbsp olive oil
10 corn or flour tortillas
1 bunch cilantro leaves
Combine cabbages and carrot with cilantro, lime, and olive oil. Mix and set aside. Boil water (1.5 litre), once it boils add a heap of salt and immerse the lobster tail for 6 to 7 minutes. Place the lobster in a bowl of ice water, remove the meat from the shell, chop, reserve. Melt the butter in a frying pan over medium heat and add the garlic, the lobster meat, the sour cream and the salsa, cook for 3 minutes then add the juice of half a lime, salt and pepper, and finally the cheese. Heat the tortillas, spread a spoon of beans and add the lobster meat, fold the tortilla, serve with the cabbage mixture.
*For sale in Latin supermarkets
Coconut Flan (serves 4)
350 grams coconut milk
150 grams coconut cream
5 eggs
100 grams sugar plus 100 grams more for caramel top
100 grams cream cheese
4 ramekins
Preheat oven to 300 degrees.
Heat the coconut milk, coconut cream and 100 grams sugar on the stovetop until sugar is dissolved. Do not bring to a boil. Remove from the heat and let cool fully. Add to the blender along with the remainder of ingredients - eggs and cream cheese. Blend fully, strain liquids through a sieve and reserve.
To make the caramel, heat remaining sugar in a skillet on medium heat for about 30 seconds. Stir constantly until the sugar is completely melted and caramelised to a rich, medium-brown colour. Add to the ramekins and allow to cool completely.
Add the coconut flan mix to the ramekins with the cooled caramel, cook in a bain-marie (or 4 to 5 cups of boiling water in a 9 x 13 baking dish with water rising ¾ up to the ramekins) for 35 to 45 minutes, or until a knife comes out clean when inserted halfway between the centre and the edge of the dish.
Remove from the oven once the coconut flan is cooked, let cool and refrigerate for 24 hours.
When ready to serve, carefully run a knife around the flan to loosen in the ramekin. Place a small plate on top of the ramekin and flip over. The flan should slide out onto the plate.
---
---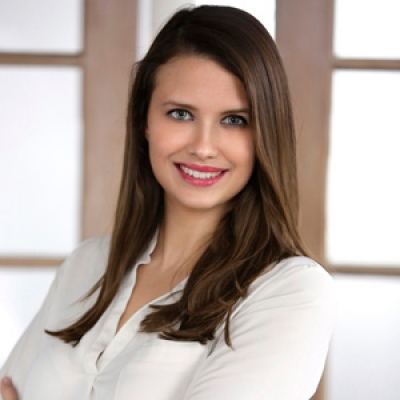 Lauren Dutton-Breen
Director of Public Relations and Communications
Costa Palmas
Los Cabos,
Mexico
---
Four Seasons Resort Los Cabos at Costa Palmas
PRESS KIT

Visit Four Seasons Resort Los Cabos at Costa Palmas Website