Back
From Grand Financial Institution to the Heart of the City's Grandest New Hotel, Introducing El Patio Lounge at Four Seasons Hotel Madrid
Opening on September 25, 2020, the Banco Español de Crédito's original main banking hall, reimagined as an energetic social space for the city, offers exceptional cakes, pastries and cocktails, complemented by original architectural details
September 16, 2020,
With lofty ceilings supported by green marble columns topped with gilt capitals dating back to 1925, the grandeur of what was once "El Patio de Operaciones," the main banking hall of the Banco Español de Crédito, has been transformed into a new social meeting point for locals and visitors alike: El Patio at Four Seasons Hotel Madrid.
Where once the boisterous sounds of bank tellers and financial transactions rang out, now it is the pouring of a fine Earl Grey tea into a porcelain cup, the fizz of bubbles in a crystal glass, the crunch of a knife cutting an irresistibly delicious cake, and the laughter of friends getting together that creates the soundtrack of the space. El Patio lounge, located in the iconic Palacio de la Equitativa building, the triangular cornerstone of Centro Canalejas, looks green and gold - "the colour of money" - corresponding with its banking heritage, as well as original architectural features including metalwork, teller desks and a dramatic overhead ceiling mosaic.
This part of Madrid has been a centre of trade, commerce and social activity since the mid 1800s, and El Patio takes on the role today, being a natural meeting point at the conjunction of the Sol-Sevilla-Alcalá streets, a location known for its buzz, energy and dynamism. El Patio is as much the perfect spot for a power breakfast to discuss business as it is for an afternoon spent sipping tea, nibbling cakes and catching up with friends, or an evening touring through the menu of cocktails inspired by the characters of the city.
It's also a great place to experience La Hora del Vermut, an institution as sacred in Madrid as in most of Spain, when people get together for a glass of vermouth to open their appetites before a large weekend lunch or in the late afternoon just before dinner. In recent years, vermouth has experienced a revival in Madrid, and at Four Seasons it is served straight from the cask - as all of the best vermuts are - in an exclusive custom-made traditional barrel from Jeréz, the first of its type since the 1960s.
With a strong foundation in French patisserie, El Patio's pastry and cake selection includes items such as the Japan-inspired matcha tea, passion fruit and roasted white chocolate mille-feuille; the refreshing lemon pie with yuzu, basil and Iranian black lemon; and the XXL-size chocolate Tulakalum cake with Tulakulam 75% from Belize, cocoa nib crisps and iyokan marmalade.
As El Patio moves into the evening, guests may be tempted by the intriguing menu of cocktails inspired by individual characters and historic figures of Madrid. Try La Modistilla, a blend of gin, cucumber, honey, celery bitters and soda, named after the young girls who trained in the workshops in the Lavapiés neighbourhood of Madrid to become dressmakers. The El Chulapo cocktail, combining Brandy Torres 15 with coffee liquor, Pacháran Etxeko and a touch of honey, is named for the dapper 19th century Madrileños who dressed in waistcoat, white shirt and cap, famed for their quick-witted jokes and cheeky demeanor.
Opening on September 25, 2020, El Patio is the ideal place for the curious connoisseur to come and discover not only the transformed space and its dramatic design, but also the energy, friendly service and ambience that changes throughout the day, whether it is a breakfast pastry as the morning light streams though the windows, a long afternoon catch-up with friends and sweet delicacies, or a cocktail while watching people go by in the evening.
Four Seasons Hotel Madrid will be opening with full compliance to local health and safety guidance, with the added benefits of the enhanced Four Seasons global program, Lead With Care. Combining public health expertise with access to leading technologies and tools, Lead With Care establishes clear procedures that educate and empower employees to take care of guests and each other. Through the company's work with leading experts, Four Seasons is leveraging world-class medical expertise to focus on enhancing cleanliness, guest comfort and safety and employee training in real time as the current situation evolves. For more information about Four Seasons Lead With Care program, click here.
---
---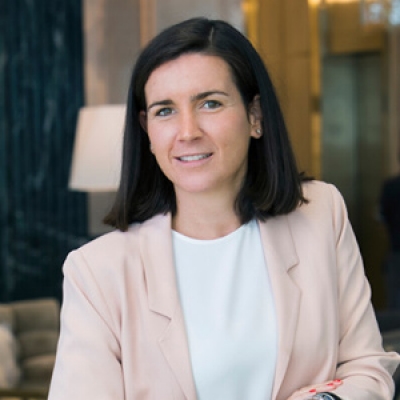 Marta Centeno
Director of PR & Communications
Calle de Sevilla 3
Madrid, 28014
Spain
---
Four Seasons Hotel Madrid
PRESS KIT

Visit Four Seasons Hotel Madrid Website