Back
ISA, the New Gastrobar at Four Seasons Hotel Madrid Brings a World of Sensations Through a Selection of Cocktails and Unique Asian-Inspired Tapas
The new gastrobar at Four Seasons Hotel Madrid opens its doors on December 9 to reveal a list of signature cocktails and Asian tapas with a Mediterranean influence that have never been seen before in the capital
A whirlwind of sensations that combines the best cocktails, gastronomy and modern entertainment
Miguel Pérez, renowned bartender, will captivate his audience with sophisticated cocktails while Jhonny Setjo reinvents Asian tapas with a creative and fun twist
November 29, 2021,
ISA, completing the gastronomy offer at Four Seasons Hotel Madrid and promising to revolutionise the social scene in Madrid, opens its doors on Thursday, December 9, 2021 to become the place to be for all those seeking a vibrant experience to stimulate the senses.
ISA is a new "liquid concept" through Asian-inspired signature cocktails that will meet the expectations of even the most epicurean clientèle in search of surprises.
Located on the first floor of the spectacular complex and enjoying the most iconic corner view in the heart of Madrid, this venue watches over the union of Calle Alcalá and Calle Sevilla in this ever-moving capital city to arouse curiosity in all those who immediately feel right at home when venturing through its doors for the first time.
ISA brings the magic of this city of light into a spectacular space with different rooms that can all be made private. Each one has its own unique and surprising personality in which all forms of art can be found in every corner. The AvroKo studio (New York) is responsible for the design.
Featuring a spectacular circular bar standing beneath hand-painted artwork on the ceiling, the main room invites guests into a world of premium brands to be delighted by the artistry of its renowned Head Bartender Miguel Pérez, who will use this bar as a stage on which to perform, create and captivate his clientèle with sophisticated and innovative cocktails.
Haiku, Source of Cocktail Inspiration
At ISA, the haiku concept (a type of short Japanese poetry capable of expressing the complexity of feelings in the fewest words possible) is sublimely applied to cocktails to produce complex flavours with a minimalist approach. The cocktail list is a commitment to elegance and sophistication, ranging from the most subtle of flavours to the most intense; it is a path of flavours that leads towards an increasingly more complex destination.
The list has been designed around flavours, in which each cocktail receives a Japanese name to evoke specific feelings. Some equally sublime alcohol-free or reduced-alcohol options will also be available.
Miguel Pérez, from Madrid, takes up the reigns of the liquid portion of ISA to share his expertise with all his guests and with a firm commitment to conveying countless sensations through each one of his cocktails. Miguel is known as one of the best bartenders in Spain and seeks to revolutionise Madrid with a new cocktail bar concept that has never been seen here before.
The renowned international bartender Erik Lorincz has been taken on as Mixology Consultant for stage one of the project to open this bar. However, his will not be the only feet behind the bar because many special guests from the cocktail world will be welcomed by ISA over the coming months.
Naturally, sake could not be missing from a place like this. ISA will be a temple for enthusiasts of this drink of Japanese origin. The only sake from a barrel to be found in Europe will coexist alongside limited edition bottles of the best Japanese whiskies.
Asian Tapas with a Roguish Touch
Cocktails are accompanied by a gastronomy offer in which Asian- and Mediterranean-inspired fusion tapas are the main attraction for an experience in which mystery is the order of the day.
A perfect companion to the cocktails, the tapas here will come from the team led by Head Chef Jhonny Setjo. After spending time at the most revolutionary establishments in Madrid, he has brought his unique roguish style to ISA where he will convey the ultimate expression of his personal creativity.
Jhonny Setjo witnessed the start of DiverXO and took part in the launch of the SreetXo concept in Madrid and London. His style fuses Asian, Peruvian and Mediterranean cuisine, making him the perfect travel companion on this new adventure entitled ISA.
His menu includes nigiris with salmon ceviche, pickled carrot and trout caviar, bao with baby squid in their ink and roasted golden garlic aioli or fried oyster with kataifi, black truffle and oscietra caviar. The menu includes sophisticated combinations that promise to surprise.
Alongside Miguel Pérez and Jhonny Setjo, Sophie Larrouture will be the Bar Manager in charge of leading the whole ISA team. She was heavily involved in creating the entire concept, bringing her expertise from other Four Seasons hotels as well as her enthusiasm and creativity. Sophie is among those to have been chosen as Best Bartender of the Year in Switzerland. According to Sophie Larrouture, creating a cocktail is like "telling a story" and one of the most exciting chapters is certainly about to begin.
Gastronomy, Cocktails and Entertainment
This gastronomy and these cocktails are complemented by the most fun, vibrant and slick entertainment for both Hotel guests and the local public in general. The will be live music and a DJ three times a week, who will add the perfect soundtrack to an atmosphere that will change with each season to bring surprises every night.
Himiko Lab: Studying Flavours at ISA
In its commitment to innovation and cutting-edge invention, ISA has taken things a step further and presents Himiko Lab: a space that embodies the desire to offer a special first-person experience, somewhere to discover and learn about the creative process behind the most extraordinary cocktails in the city, to learn about some of the machines used in this unique space, such as the Rotovap (a unique machine that is used for redistillation), or such techniques as vacuum infusion.
The name Himiko is a tribute to the eponymous Japanese wizard-queen.
The experiences at ISA evolve and adapt to each moment and group, meaning there is always a reason to return and to continue being surprised by its mystery.
In short, ISA is a name to be remembered and one that raises the bar for cocktails in this city, and daring gastronomy that provides the perfect accompaniment and entertainment that will give guests an experience suitable only for those willing to live intensely.
Opening times: Tuesday and Wednesday from 7:00 pm until 1:00 am; Thursday, Friday, Saturday from 7:00 pm until 2:00 am
DJ session: Every Thursday, Friday and Saturday from 9:00 pm
Contact e-mail: isa.madrid@fourseasons.com
Instagram: @isagastrobar
---
---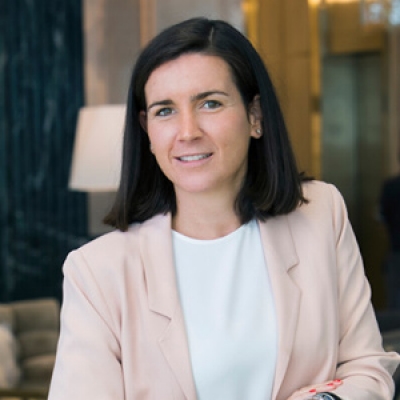 Marta Centeno
Director of PR & Communications
Calle de Sevilla 3
Madrid, 28014
Spain
---
Four Seasons Hotel Madrid
PRESS KIT

Visit Four Seasons Hotel Madrid Website