Back
Four Seasons Hotel Madrid Participates Once Again in Madrid Cocktail Week with Proposals from Its Three Gastronomic Spaces
El Patio, ISA and Dani Brasserie will be participating with several creations that will surprise the most exquisite palates in a unique week dedicated to the fabulous mixology creations of the country
September 26, 2022,
Once again, Four Seasons Hotel Madrid will take part in Madrid Cocktail Week (MCW), which begins on September 26, 2022 in Madrid. Along with other restaurants, bars and cocktail bars, the Hotel will be part of this fifth edition with surprising proposals created by some of the best bartenders in Spain from its establishments ISA, El Patio and Dani Brasserie.
For a week, Madrid will become the cocktail capital of the world with hundreds of ideas and experiences that revolve around mixology and where visitors can enjoy unique benefits and prices on a selection of cocktails from each participating establishment by acquiring the Madrid Cocktail Week wristband.
ISA: Asian-Inspired Signature Cocktail Bar
Located on the first floor of Four Seasons Hotel Madrid, in the most iconic corner of the capital between Alcalá and Sevilla streets, ISA restaurant and cocktail bar fuses an enjoyable Asian and Mediterranean-inspired gastronomic experience with a sophisticated Japanese-inspired signature cocktail bar directed by its Head Bartender Miguel Pérez.
Through its "liquid" approach, inspired by haiku, a type of Japanese poetry capable of expressing complex ideas in a simple way, it will be represented at MCW with three of its most sophisticated and flavoursome creations.
Heisei made with Matusalen 15, oloroso sherry, Italicus, champagne gastrique and quinine is one, and another of the suggestions with which they will be participating is Geisha, a smoky drink of happiness based on vodka, Cointreau, nitro shiso-matcha cordial and white cocoa, and the range of flavours found in Satori, made with Martin Miller's and electric cordial.
In addition, locals and visitors will be able to enjoy live entertainment and unique experiences such as guest bartending by Federico Balzarini, the bartender at @vesperbkk, who will be at ISA on October 1, 2022 from 7:00 pm.
El Patio, a Sophisticated and Elegant Proposal Where the Classics are Revisited
El Patio, the lobby lounge of Four Seasons Hotel Madrid, will be taking part in MCW with a sophisticated, elegant menu of recognisable flavours that aims to be a "guide to a journey into the past" where the classics are revisited and evoke how this setting was witness to memorable stories and a favourite meeting point for many.
As a result, three sophisticated proposals: Mr. Negroni, prepared with Nordés, Atamán vermouth and Campari; Paloma Posh, a sweet mix with a spicy twist made with Don Julio Reposado, Campari, agave, spice and peach soda; and finally, El Sereno, a cocktail based on Nordés, Martini Fiero, Paragon Rue Berry, bitters and Campari for those looking for a vibrant mix.
Dani Brasserie, an Ode to Spanish Culture
Meanwhile, Dani García's space, Dani brasserie located on the seventh floor of Four Seasons Hotel Madrid, will also take centre stage at Madrid Cocktail Week with its cocktail bar inspired by Spanish art, culture, music and nature. Through their creations, the restaurant's mixology team pays tribute to outstanding artists such as Sorolla, Dalí, Velázquez, Almodóvar, Sara Montiel and Gloria Fuertes, who have left their mark on the history of our country.
On this occasion, locals and visitors will be able to enjoy Luz, a cocktail inspired by the painter Joaquín Sorolla, full of brightness, with Mediterranean flavours and made with Martini Rubino, Campari, Sherry Fino, balsamic vinegar bitters, dry Curaçao, cider, thyme and rosemary. In addition, MCW participants will be amazed by Barbate, a cocktail based on Nordés, yuzu, passion fruit syrup, basil, lemon and sparkling sake that pays homage to Barbate's "almadraba" fishing art and tradition.
---
---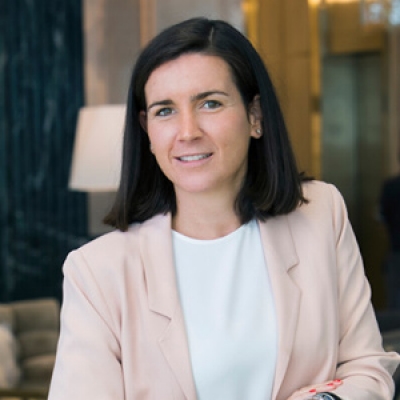 Marta Centeno
Director of PR & Communications
Calle de Sevilla 3
Madrid, 28014
Spain
---
Four Seasons Hotel Madrid
PRESS KIT

Visit Four Seasons Hotel Madrid Website