Back
The New Home of Luxurious Gastronomy in the Capital, ISA at Four Seasons Hotel Madrid Reinvents its Culinary Offer Through New Flavours
ISA seeks to constantly surprise its clientele by innovating with new dishes and has opted to make seasonal produce a key aspect of this rotating menu
May 30, 2022,
At the heart of luxury in Madrid, gastronomy has a name of its own, and that is ISA. In a unique location on the iconic corner where Calle Sevilla and Calle Alcalá converge to envelop Four Seasons Hotel Madrid, ISA has made a name for itself among the best gastronomy venues in the capital through constant innovation in flavours and a unique experience that surprises with every bite.
"With these new dishes, we will add vibrancy and make the experience more attractive for our returning clientele because they will be able to find something different each season," says Jhonny Setjo, Head Chef at ISA.
Innovative Flavours for Each Visit
ISA encapsulates an Asian and Mediterranean inspired gastronomy concept where the offer becomes a sensory experience featuring Japanese haute cuisine with a Mediterranean twist. Head Chef Jhonny Setjo is responsible for the gastronomic creativity here and has decided to reinvent his concept with refreshed versions of seasonal dishes aimed at adapting them to seasonal produce and thereby ensuring that each visit is unique and unparalleled.
After being involved in the early days of DiverXO, Chef Jhonny Setjo has brought his extensive experience to the kitchens at ISA to create a complex menu for which mystery is the central theme on this culinary journey for the palate. It's a unique formula with a dynamic and fun twist on the sophistication of one of the most avant-garde and daring menus in the city. The rotating format in combination with its mix of flavours means that the culinary offer at ISA is a fun, light-hearted, dynamic and flavoursome experience, where a live DJ can also be enjoyed every night alongside a one-of-a-kind food pairing with a range of signature cocktails.
Chicken wings made using the Japanese karaage technique and glazed with gochunjang, honey and flakes of bonito tuna, or the wok of enoki mushroom fake noodles with ginger, chive and braised scallop are just two of the new creations now available to try at this incredible gastronomy venue.
These new delights can be found on the "Kaiseki" menu, one so dynamic that it reinvents itself with each season to form a kind of "parade of mini-dishes" that combine both vegetables and various types of protein. Thus, the chef has successfully brought all these elements together for a menu of bestsellers capable of conveying countless sensations and emotions.
This new proposal is already available in the Gastrobar at Four Seasons Hotel Madrid and costs EUR 98 per person. It is the perfect combination of sushi and a highly characteristic selection of fusion dishes that perfectly represent Mediterranean-inspired Asian haute cuisine, seeking to become yet another option for those who visit ISA. The option also exists to add three signature cocktails to the menu for EUR 39 as the perfect accompaniment, making each visit a one-of-a-kind experience.
"The Kaiseki philosophy is Japanese haute cuisine, fine and elegant cooking," adds chef Jhonny Setjo.
Unique Liquid Concept
The offer at ISA is enhanced by its "liquid concept": unique signature cocktails that fuse the most exotic of flavours under the concept of haiku (a type of short Japanese poetry capable of expressing the complexity of feelings in the fewest words possible). This has produced a cocktail menu that is minimalist in nature and firmly committed to elegance and sophistication in surroundings where the live music and carefully designed décor create the perfect scenario in which to enjoy their intense notes.
Behind these cocktails is Miguel Pérez, known as one of the best bartenders anywhere in Spain, who has revolutionised Madrid with a new mixology concept that has never been seen in the capital before. Through this process of innovation, a number of his iconic cocktails - such as the Yugen or the Heisei - have given rise to new combinations: Ikigai, one of the sweetest drinks on the menu thanks to a combination of Ketel One vodka, Cocchi Americano, Supasawa, banana water and pineapple; and Tsuyoki, a cocktail with strong personality that mixes IPA, vermouth, Campari, coffee aroma and quinine. Both these creations were developed in his Himiko Lab, where the secret blends have been enshrined in their Japanese names.
---
---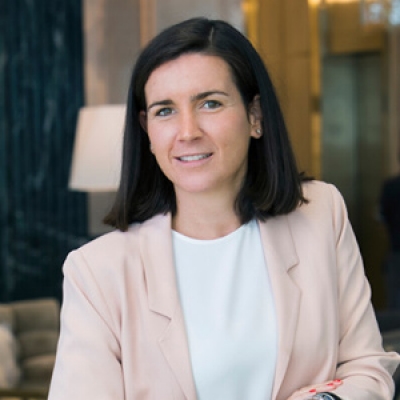 Marta Centeno
Director of PR & Communications
Calle de Sevilla 3
Madrid, 28014
Spain
---
Four Seasons Hotel Madrid
PRESS KIT

Visit Four Seasons Hotel Madrid Website