Back
Dani Set Lunch Menu is Back to Celebrate the Return of Dani Brasserie at Four Seasons Hotel Madrid
Chef Dani García returns in September to once again offer his iconic lunch menu on the seventh floor of Four Seasons Hotel Madrid, which will only be available at lunchtimes from Monday to Friday
The menu will change monthly and will always include some of the most iconic dishes from this chef who hails from Malaga
September 21, 2023,
"Because any time of day is perfect for enjoying the Madrid sky." This is the premise behind Dani Set Lunch Menu, a gastronomy experience by Dani Brasserie that lets people enjoy a special lunch on the seventh floor of Four Seasons Hotel Madrid. From September 18, 2023, Chef Dani García will once again be offering a lunch menu, on weekdays only, that will change monthly and will always include some of the most iconic dishes from his career.
Dani Set Lunch Menu begin with a choice of starter from among the tuna tartare, ponzu, sweetcorn and toasted brioche; duck magret salad with pomegranate and gorgonzola cheese; vichyssoise with eel and parmesan crisp; or the famous Tomate Nitro and green gazpacho with baby shrimp tartare. The menu continues with a main course of creamy rice with shellfish and rockfish; fish of the day and artichokes with a fennel and basil cream; beef schnitzel with egg yolks and rosemary chips; or one of the chef's star dishes, the iconic matured loin Rossini hamburger with foie gras and parmesan cheese.
All these dishes can be accompanied by a side of french fries, roasted bell peppers or mashed potatoes. For that final sweet finish, the lunch menu at Dani Brasserie concludes with a hazelnut coulant with vanilla ice cream, apple tart or the legendary Andalusian Freshness with orange, pistachio cream, orange blossom and peppermint green tea.
"We want Dani Brasserie to be the chosen venue for all those seeking a special experience. Besides offering an idyllic breakfast for starting your day in style or a dinner with views of the capital's skyline to end it, our midweek lunches are now taking their rightful place in the limelight," says Ismael Paul, head chef at the restaurant.
"What's more, this latest offering maintains our commitment to seasonality and local producers, and we will steadily add new recipes in order to always offer the very highest quality," adds Pierre Bauduin, General Manager of Dani Brasserie.
Dani
Calle de Sevilla, 3, 28014 Madrid
Monday to Friday from 1:00 to 4:00 pm
EUR 51 per person
Reservations: 913 30 62 10
---
---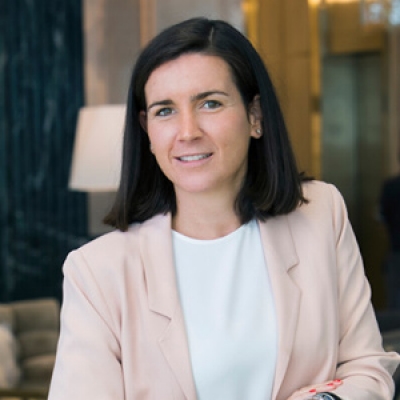 Marta Centeno
Director of PR & Communications
Calle de Sevilla 3
Madrid, 28014
Spain
---
Four Seasons Hotel Madrid
PRESS KIT

Visit Four Seasons Hotel Madrid Website