Back
Presenting a Dramatic Modern Sculpture by KAWS
A powerful contemporary sculpture by American artist KAWS is the focal point of the two-storey historical lobby of Four Seasons Hotel Madrid.
Along The Way is a larger-than-life-size sculpture from KAWS' Companion Series, created in 2013. The piece is a work of juxtapositions, contrasting vulnerability and strength, whimsy and monumentality, as well as the modern and traditional – making it the perfect choice for this historical environment. The piece is formed of two figures made of interlocking hardwood pieces. Together the statues weigh 618 kilograms (1,362 pounds) and stand 2.5 metres (8 feet) high. The use of wood lends a permanence and solidity to the modern, cartoon-like figures, while imbuing them with the old-fashioned nostalgia of traditional wooden toys.
The KAWS sculpture has been loaned to Four Seasons Hotel Madrid by Mark Scheinberg, founder of the global investment company Mohari Hospitality. Mohari is a co-owner of the Centro Canalejas Madrid building within which Four Seasons Hotel Madrid is located.
As Mark Scheinberg explained: "This iconic sculpture by KAWS is visually very contemporary, but represents traditional and enduring values of collaboration, co-operation and support for one another. It's fitting that this ultra-modern piece, by a graffiti artist from Brooklyn, should be housed in such a historic building in the heart of Madrid – a perfect contrast of old and new. I'm delighted that guests and visitors to Four Seasons Hotel Madrid will have the opportunity to admire this stunning work."
The artist Brian Donnelly was born in New Jersey in 1974. He took KAWS as his tag name, drawn to the graphic and aesthetic power and possibilities of the four letters. It is the name now synonymous with his iconic brand of instantly recognisable art and design, in a style honed since his graduation from the School of Visual Arts in New York and a year spent as an animator at Disney.
From his roots as a New York graffiti artist in the 1990s, subverting advertising images, KAWS' work has evolved along the channels of reinterpretation and deconstructive appropriation. Encountering the vogue for American street culture, alongside the subculture of collectible cartoon-based "toys" in Japan in the late 1990s, KAWS was inspired to create his first toy, in collaboration with a Japanese toy and streetwear brand. "Companion" – a Disney-esque figure, with characteristic X's for eyes and a cartoon skull and crossbone head – had previously been featured in two-dimensional form in KAWS' earlier graffiti work. The sell-out edition of "toys" marked a new era for the Companion character in KAWS' output. From a multitude of collectible figures in vinyl, an 18-metre (60-foot) tall inflatable version, to giant versions created in wood, fiberglass and bronze, Companion has continued to be imagined and reimagined by the artist.
Comparisons are often drawn between KAWS and artists such as Basquiat and Haring for their trajectory from "street" to highly sought after contemporary art – with the precedent set by Andy Warhol for the replication and popularisation of an iconic image. Likewise, KAWS' work has a universal and immediate visual impact. The simplified motifs of reinterpreted pop culture icons proliferate through a multitude of mediums, embracing the widest possible audience and crossing cultural and socio-economic divides.
From Dior to Uniqlo, the range of KAWS collaborations is further testament to the democratisation of his art, in which he blurs the distinction between "high" and "low" art. His work – ranging from cult-collectible figures to paintings, sculptures and large-scale public projects – is collected by connoisseurs and exhibited in major museums around the world. Key pieces are featured in the Brooklyn Museum in New York, Modern Art Museum of Fort Worth, the Museum of Contemporary Art San Diego and the CAC, Malaga.
According to Adrian Messerli, Regional Vice President and General Manager of Four Seasons Hotel Madrid: "It fills us with pride to have such a stunning, museum-quality sculpture from a world-renowned artist as the focal point of our already-spectacular lobby. People are now coming to the Hotel just to see the sculpture, complementing our Hotel´s overall impressive art collection."
---
---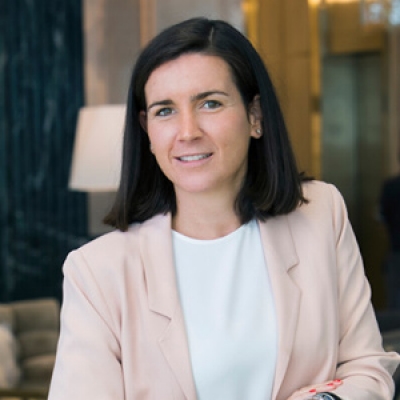 Marta Centeno
Director of PR & Communications
Calle de Sevilla 3
Madrid, 28014
Spain
---
Four Seasons Hotel Madrid
PRESS KIT

Visit Four Seasons Hotel Madrid Website