Back
Your Healthy Honeymoon Guide with Nutritionist Rhiannon Lambert – the UK's leading Nutritionist
After the intense planning of your big day, a honeymoon is a time to relax, step away from the spotlight and enjoy time together with your newly beloved. For many, a tropical island such as Mauritius is the dream location for a honeymoon, with its inviting climate, picturesque scenery and perfect complement of activity and rejuvenation catering to all. Yet, after the intensity of a wedding, it can be hard to maintain a healthy approach to your time away. Four Seasons Resort Mauritius at Anahita has partnered with nutritionist Rhiannon Lambert, founder of Rhitrition, London's leading nutrition clinic, who here provides her top healthy honeymoon tips:
Support your immune system – As many will know, when the body has chance to rest after a busy, intense or even stressful period of time, your immunity defences also relax and this can often result in feeling unwell. Illness is the last thing you would want to intrude on your honeymoon and so it is important to help give your body some extra support with regular intake of vitamins and minerals through a healthy balanced diet. At Four Seasons Resort Mauritius, try the Protection smoothie at the breakfast juice bar, made from pear, apple, spinach, mango and banana.
Graze throughout the day – One of the biggest temptations when on holiday somewhere new is to indulge in all of the delicious food that is on offer – and so you can! A healthy honeymoon does not mean depriving yourself of tasty treats, rather that these should be enjoyed in moderation. Try to enjoy smaller bites throughout each day to avoid becoming overly full or lethargic and each pick different menu items to allow you to sample a wider choice of dishes together. Variety is the key to a healthy digestive tract and you needn't fear snacking.
Stay hydrated – It may seem one of the more obvious ones, but drinking plenty of water is essential in allowing your body to process impurities and to ensure you to stay hydrated, especially in the tropical heat of islands such as Mauritius. If enjoying wine or a local cocktail with your lunch or dinner, make sure to order a bottle of water between you as well.
Discover new activities together – New destinations are all about discovery and even if relaxing on the beach or by the pool are high priorities, find time each day to try something new together. In Mauritius, the Resort offers a choice of water sports, such as stand up paddle boarding; a daily golf initiation on the driving range; complimentary tennis on two floodlit courses; and bicycles to explore the 64 acre (26 hectare) grounds at your own pace – whatever you choose, the new experiences will help shape your lifelong honeymoon memories.
Align with nature – Aside from the warm temperatures, escaping to a tropical climate is also hugely beneficial to the body as it allows you to spend large amounts of time outside. Island locations are blissfully removed from pollution and the natural humidity of the air helps restore moisture in your skin, leaving you looking naturally refreshed. Connecting with nature is wonderful for our mental health, letting go and relaxing.
Focus on your wellbeing – Even if you or your partner have never tried yoga before or even visited a spa, let your honeymoon be a time when you experience this together. Yoga is highly beneficial to balancing the mind and body and many resorts offer classes suitable for all levels. Four Seasons Resort Mauritius has a complimentary yoga class every weekday and a choice of couple's rituals to choose from, including the Honeymoon Hibiscus Blessings, which uses the local hibiscus flower known to inspire romance, passion and harmony.
Disconnect from technology – If you and your partner are prone to being glued to your smart phone or tablet, make a rule that your time on such devices is limited during your honeymoon. Technology has completely altered the way we communicate and receive information and while many of us rely on our phones for these reasons, the constant desire to check for updates and scroll through ever-updating information can leave you feeling drained. So, leave your personal devices to one side and treasure every honeymoon moment.
---
---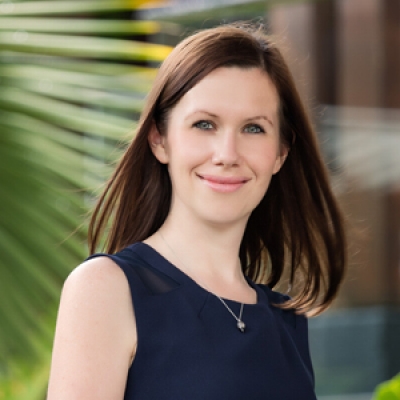 Debbie Duval
Senior Director of Public Relations and Communications

Beau Champ,
Mauritius Beatrice Tsang
Public Relations Coordinator

Beau Champ,
Mauritius
---
Four Seasons Resort Mauritius at Anahita
PRESS KIT
Visit Four Seasons Resort Mauritius at Anahita Website