Back
EDGE, Steak & Bar at Four Seasons Hotel Miami Reveals Summer Menu
Brickell's modern steakhouse has launched seasonal menu with luscious summer flavours
July 19, 2018,
EDGE, Steak & Bar located at Four Seasons Hotel Miami has revealed a seasonal menu with alluring flavours for a vibrant taste of summer. Recently recognised as "one of the best steakhouses in South Florida" by Forbes, EDGE, Steak & Bar is led by Executive Chef Aaron Brooks, whose vision for the season was to add light and flavourful dishes for guests to continue to enjoy outdoor summer adventures without the regret.
Snacks and starters include crispy cauliflower fritters with sesame yogurt and lemon (USD 8); and spicy lamb meatballs with black olives, tomato, parsley, and tonnato, a traditional creamy Italian sauce (USD 9). From under the sea they have included a scallop and carrot risotto with rosemary and green olive salsa verde (USD 13); a pink shrimp tiradito inspired by the culture of their Peruvian line cooks made with celery, cape gooseberries, basil and acevichado, a sauce consisting of rocoto chili and leche de tigre ("tiger's milk") (USD 15); and a fire roasted octopus, a spin off from a traditional Spaniard pulpo gallego garnished with chorizo hollandaise, fried potatoes and grilled romaine lettuce (USD 18).
From the Garden Bites, diners can enjoy corn masa gnocchi, made from flour intended for tortilla, summer squash, wagyu bacon cured in-house, green onion, cheddar crema and epazote, a Mexican herb with notes of anise, mint and oregano (USD 14); as well as Teena's tomato salad, made with stracciatella, pickled pearl onions, and colourful radishes in mulberry vinaigrette (USD 12).
"This dish tastes like summer on a plate. One of my favourite summer memories takes me back to when I was a kid picking fresh mulberries off trees in my homeland of Sydney, Australia," says Chef Aaron Brooks. The heirloom tomatoes used in this salad are from Teena's Pride, a third generation sustainable family farm located in Homestead, Florida, just 35 miles (56 kilometres) away from the restaurant that is committed to providing chefs with the finest quality of vegetables.
New medium to large dishes to revel in include Chef Brooks traditional grilled Aussie lamb chops with spiced eggplant and mint, roasted garlic hummus and pomegranate jus (USD 28); and a decadent grass fed short rib braised and blackened with maduro mermelada, grilled radicchio and fennel salad (USD 28).
In addition to its dinner menu, EDGE, Steak and Bar has also added new breakfast items including a coconut chia pudding where chia seeds are soaked overnight in coconut milk and matcha green tea from Miami's favourite Tea Artisan, Jojo's Tea, garnished with pineapple, strawberries, dates, raw cashews, hemp hearts and cocoa nibs (USD 13). For a trendy and flavourful plate, guests can enjoy an avocado toast with two poached eggs, crushed avocado, queso fresco, heirloom tomatoes and basil, topped on a sour dough toast from Sullivan Street Bakery, recently named the Best Bakery in Miami for 2018 by Miami New Times (USD 20). For a sweet morning indulgence, guests can choose from an array of baked goods, including two new options of a cinnamon raisin scroll (USD 4); or an orange almond croissant (USD 4) baked fresh daily by well renowned Pastry Chef Lazlo Bollok.
Daily, 7:00 am - 11:00 pm
EDGE Bar, 3:00 pm - 12:00 midnight
Menus and pricing may be found here
---
---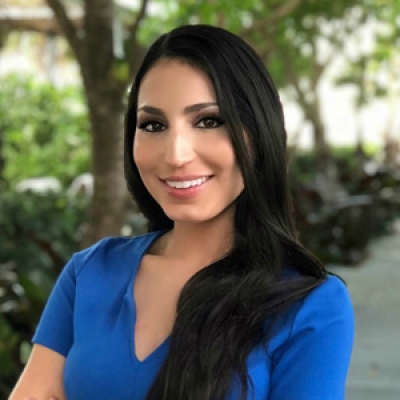 Mikaela Vourtsis
Public Relations and Communications Manager
1435 Brickell Avenue
Miami, Florida 33131
U.S.A.
---
Four Seasons Hotel Miami
PRESS KIT

Visit Four Seasons Hotel Miami Website