Back
Experience the Sights, Tastes and Sounds of Little Havana with an Exclusive Tour Curated by a Four Seasons Hotel Miami Concierge
Brickell Hotel offers private culinary tour to Little Havana led by knowledgeable Concierge
July 3, 2019,
Four Seasons Hotel Miami announces the launch of Sights, Tastes, and Sounds of Little Havana - an exclusive Four Seasons off-site experience to Miami's Cuban Heart, personally led by in-house concierge Karla Ferrer.
"This is the first of many guest experiences to come to life inspired by our 'This is Our Miami' campaign, which showcases our diverse employees sharing their views as local experts in the true and authentic Miami," says Jason Bossenberry, Director of Sales & Marketing.
With more than 10 years in the concierge profession, Karla's eagerness for knowledge and her Hispanic heritage are why she loves connecting her guests to the remarkable location. Throughout the tour, Karla will personally unveil Miami's Latin infused culture and influences, from the food to the coffee, and the legendary restaurants, bars, and art located in the neighbourhood's well-known strip, Calle Ocho.
"As the leading cultural hub of Miami, Calle Ocho is known for some of the best in traditional, family-style Cuban cuisine, coffee and pastries. Yet, there's so much more to Little Havana than just croquetas and pastelitos. The neighbourhood's culinary scene is visibly evolving; this generation of restauranteurs take the best of Latin American ingredients and give them a modern makeover to satisfy any palate," says Karla Ferrer, Concierge.
Guests begin their experience with transportation from the Hotel to Little Havana on a classic car, including a 1960s Buick Electra driven by American Dream Tours, Miami's leaders in classic car tours. During the scenic drive, guests will be charmed by the history of Miami and Little Havana, prior to arriving at Calle Ocho where they'll kick off their journey to the vibrant sights, tastes, and sounds of this lively neighbourhood. To start, Karla will familiarise guests with the culture by doing what the locals do best – drink cafecito, a Cuban espresso shot, and converse with husband and wife owners of the Little Havana Visitors Center on the origins of the coffee and fun facts about Cuban traditions.
After the adrenaline hits, guests are led to their next stop of a local art gallery to view the works of legendary and upcoming Latino American artists in Miami. Karla then begins a food tour to several nearby restaurants to taste unique dishes and cocktails customised to the guests' dining preferences. For shopping, guests will be led to nearby boutiques to purchase traditional Cuban attire, such as the guayabera, a traditional Cuban men's shirt, or hand rolled cigars. The experience concludes at the historic Ball & Chain restaurant, where guests can enjoy a traditional Cuban Mojito and live salsa music, all while taking in the soul of Miami and its Hispanic roots. After the excursion, guests are transported back to Four Seasons Hotel Miami in the classic 1960s car as their Brickell retreat awaits them.
Guests are welcome to enjoy the tour any day of the week beginning in the late afternoon. Tour is packaged and priced per couple starting at USD 995 and guests must reserve at least 72 hours in advance by calling the Concierge Department directly at 305 381 3030.
---
---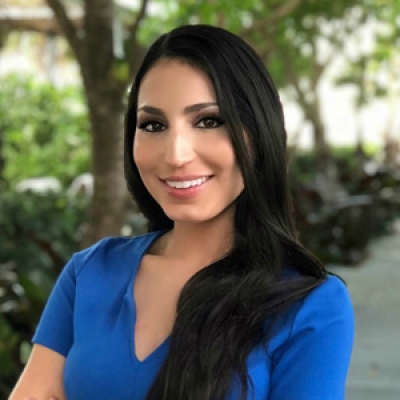 Mikaela Vourtsis
Public Relations and Communications Manager
1435 Brickell Avenue
Miami, Florida 33131
U.S.A.
---
Four Seasons Hotel Miami
PRESS KIT

Visit Four Seasons Hotel Miami Website