Philadelphia has welcomed a new, defining landmark to its skyline. Designed by the world-renowned architect Norman Foster of Foster + Partners, the Comcast Innovation and Technology Center is the city's tallest building, which has for its apex a modern designer's dream: the brand new Four Seasons Hotel Philadelphia at Comcast Center.

Officially opened in August 2019, this 12-storey hotel defies expectations in a city so well-known for American history, sports culture, and the Liberty Bell. The Comcast Center is another story—one that sets the tone for the future of Philadelphia.

Stepping inside the swanky, double height entrance on the ground floor of North 19th Street, visitors are greeted warmly by attentive staff and a large-scale digital art installation by Tokyo-based TeamLab, depicting a cascade of falling flower petals, no two of which are the same. It is a lyrical expression of traditional Japanese painting techniques, and a subtle nod to the other artists and creatives—including bold faced names like Jenny Holzer, Jean-Georges Vongerichten, and Brian Eno—who came together to turn this high-rise tower into an extraordinary experience.
To check in, guests step into a glass and steel elevator, silently soaring up 300 meters (984 feet) with views from Logan Circle and beyond all the way to the Delaware River. Once you reach the hotel's dazzling 60th floor lobby, the sense of arrival is sharpened by polished black marble floors theatrically reflected in the soaring ceiling mirrors, which were set at calculated angles to capture the best possible views of the skyline.
Adorning this gravity-defying space on each wall are the opulent floral designs of Artistic Director Jeff Leatham. This season, the floor-to-ceiling florals display lush green hydrangeas, which anchor tall cylinders of bright purple orchids, arranged high atop mirrored pedestals to mimic the city skyline. The effect is at once seductive and welcoming, setting an expectation of sublime elegance.
"We've built a vertical city. There are so many things happening in one building—from NBC Universal's TV studios, to the restaurants, to office spaces full of art. And nothing is nicer than having the whole experience of Philadelphia from the 60th floor of the hotel," says Nigel Dancey, Senior Executive Partner at Foster+Partners.
All this lofty luxury makes it easy to forget this is actually an office building, and just a few floors below, the work of hundreds of local Comcast employees is well underway. To acknowledge this, the architect's master plan was designed to directly connect this shiny new LEED certified tower to the original Comcast headquarters via an underground passageway, which has access to both public art (be sure to check out Jenny Holzer's digital ticker tape installation in the Comcast lobby), and public transportation (the building sits overtop Suburban Station).
Overall, the Comcast Center is now two sister buildings, bound together by integrated technology, symbiotically representing Philadelphia's past and future.

Restoring Mind and Body
As much as the hotel reflects city life and boasts a vibrant social scene, it also offers amenities that deal solely with the individual. At the 57th floor Spa and state-of-the-art fitness centre, sweet solitude is not only attainable; it is a fundamental part of what this hotel has to offer.
Particularly jaw-dropping is the indoor infinity pool, with 360-degree views and turquoise waters that seem to reach the very edge of the horizon. Set within a cathedral-like structure, the pristine white walls and white orchids are offset by natural sand-colored marble flooring, which capture the essence of tranquility.
This zen-atmosphere continues within the seven-treatment rooms of the Spa at Four Seasons, which specializes in crystals selected by crystal healing expert Rashia Bell and literally embedded into the walls during construction. Though hidden behind the surface, some 700 pounds (317 kg) of crystals surround you, enhancing your sense of serenity. Signature treatments such as the full body "Warm Crystal massage" use a combination of warm crystals, soothing oils, and sound vibration to bring you into a profound state of relaxation.
---
---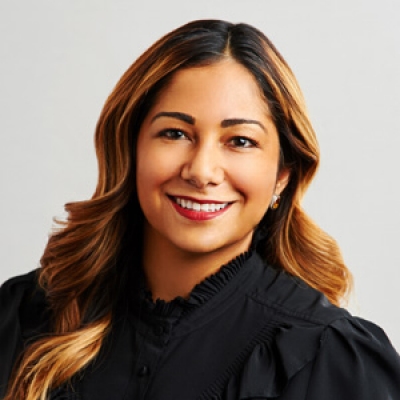 Melissa Quiñones DeShields
Director of Public Relations
One North 19 Street
Philadelphia, Pennsylvania 19103
USA
---
Four Seasons Hotel Philadelphia at Comcast Center
PRESS KIT

Visit Four Seasons Hotel Philadelphia at Comcast Center Website