Back
New Dinner Menu at MKT Restaurant Highlights Market Vegetables and Spring Dishes at Four Seasons Hotel San Francisco
Modern California-inspired menu debuts Chef de Cuisine Ashanti Young's dishes
March 20, 2019,
With the change in seasons, MKT Restaurant-Bar at Four Seasons Hotel San Francisco launches a new spring dinner menu. Each dish is thoughtfully prepared to showcase the simplicity and freshness of the ingredients: from the baby gem salad to the marinated tofu with mushroom consommé, the Liberty Farm duck breast, and branzino with black eyed peas.
Four Seasons Hotel San Francisco Executive Chef Cyrille Pannier and MKT Restaurant Chef de Cuisine Ashanti Young curated the menu with today's diner in mind.
"We've designed this menu for both locals and visitors. Their preferences are shifting, and they are looking for variety, reducing red meats, and including more plant-based dishes into their daily routine," says Pannier. "The Bay Area has so many farms, purveyors and local merchants who have the best ingredients that helped inspire these latest dishes."
Chef Young's creativity and craft shines on the menu. She joined the Hotel last year from International Smoke in San Francisco. No stranger to Four Seasons, Young also worked in Four Seasons Hotel Washington, DC at BOURBON STEAK and in Four Seasons Hotel Baltimore at Wit and Wisdom, also restaurants operated by Mina Group.
"I've always been working with food. After school in upstate New York, I began my culinary career at a restaurant in Baltimore where everything was made from scratch," Young recalls. "Here, I'm excited to bring in some new ideas with fresh vegetables and seasonal ingredients. We have some salads that will always change and it's exciting to go to the farmer's market and see what's there and play around with some really interesting fruits and vegetables."
Chefs Pannier's and Young's consistent changes to the menu bring energy and excitement to the dinner scene at MKT Restaurant. Pannier's favourite dish on the new menu is the duck breast.
"As a child, we use to have farm-raised duck at the dinner table on Sundays. Sonoma's Liberty Farm duck reminds me so much of the ones I used to eat when I was young: juicy, tender, and mild in flavour," shares Pannier. "The duck breast at MKT is glazed with our rooftop honey and paired with a south of France specialty, panisse (or chickpeas fries), this season's baby root vegetables and star anise carrot purée."
"My favourite dish on the menu is the branzino fillet with black eyed peas, Carolina gold rice, and berbere spiced okra. This dish is a combination of my family roots, and really speaks to the kinds of flavours I love to create," says Young.
Pastry Chef Michael Brown compliments the menu with new desserts. Dishes such as the crostata will change with the availability of fresh fruit, from apples to stone fruits. The strawberry rhubarb panna cotta showcases the abundance of California strawberries, and pairs well with the tart rhubarb granita and the texture of the white chocolate crunch.
In the heart of SoMa – with panoramic fifth-floor views of Market Street and downtown – the restaurant is open for breakfast, lunch, dinner and weekend brunch in downtown San Francisco. MKT Bar offers craft cocktails made with seasonal and local ingredients and every Thursday night features "The Den," a craft cocktail and live music event that pays homage to the original speakeasies of San Francisco.
For more information on the spring menu or reservations visit the restaurant online or call 415 633 3838.
---
---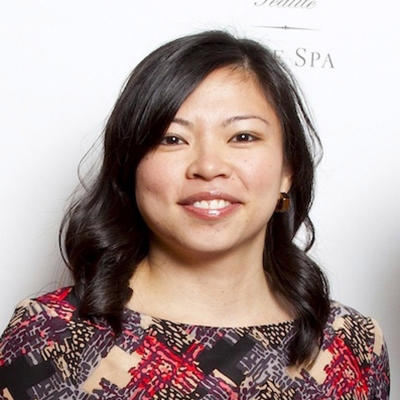 Meg Paynor
PR Consultant
757 Market Street
San Francisco, CA 94103
U.S.A.
---
Four Seasons Hotel San Francisco
PRESS KIT

Visit Four Seasons Hotel San Francisco Website