Back
As Bali Eyes Recovery, Four Seasons is Ready to Welcome Back Guests
New experiences and upgraded facilities at Jimbaran Bay and Sayan Resorts
February 17, 2022,
As Bali welcomes back its first direct international flights in nearly two years, Four Seasons Resorts Bali have adapted to the new era of travel with experiences and amenities inspired by nature, seclusion, wellness and the great outdoors.
From a new contemporary Balinese spa and open-air dining experiences to private cultural tours and active adventures, the Resorts have gone above and beyond enhanced health and safety protocols to ensure guests can enjoy all that the Island of the Gods has to offer, with the highest levels of comfort and care.
The concept of both Resorts naturally allows for physical distancing and immersion in nature. The all-villa Four Seasons Resort Bali at Jimbaran Bay has 156 pool villas spread across 14 hectares (35 acres) of oceanfront gardens, while Four Seasons Resort Bali at Sayan has 42 villas and 18 suites immersed in eight hectares (20 acres) of lush riverside wilderness. Each villa is inspired by Bali's trademark open-air design, set in a private compound with a plunge pool and outdoor living space to complement the contemporary interiors. For families and multigenerational travellers, Jimbaran Bay's nine Residence Villas are spacious two-storey retreats with up to four bedrooms, 20-metre-long (66 foot) pools and direct access to the five kilometre (three mile) beach.
While all staff have undergone intense training on Four Seasons Lead With Care global protocols to continue to deliver the highest standard of service, they have also been working behind-the-scenes on bucket list-worthy experiences.
"Over the last two years, our amazing staff have kept busy and motivated looking at new ways to share the magic of Bali with the world," says General Manager Uday Rao. "We are excited to welcome back guests from all corners of the globe and promise it will be worth the wait, with upgraded facilities and destination-based experiences that remind us why we love to travel, and why Bali is so special."
Here's a glimpse of what's new and awaiting travellers at Four Seasons Resorts Bali:
Brand New Spa: Seemingly suspended above water and spanning over 2,000 square metres (22,000 square feet), Bali's wellness destination features 10 all-suite spa rooms where expert therapists deliver immersive, transformative treatments. Drawing on ancient Balinese wisdom and the power of light and sound, crystals and colour, plants and pure water, the Healing Village Spa invites guests to align the body's energy centres, nurture positivity, build resilience and instill a deep sense of calm. The sensory, vibrational experience is enhanced by the most sophisticated wellness innovations: Bali's first surround sound spa suite has a heated bed made from crushed crystals for a massage like no other, while the wet treatment room is equipped with a rainbow ecoVichy shower for therapists to perform water, colour, sound and massage therapy all at once. Or guests can enjoy some self-directed pampering at The Longevity Garden, a "secret" courtyard garden for individuals or couples to nourish each other with volcanic mud masks, and enjoy the private steam room, thermal sun lounges for mineral absorption, and invigorating ice bath at sub-10 degrees Celsius to release endorphins and reboot the future. The two-storey facility also houses a spacious gym, yoga studio, Rossano Ferretti Hair Salon and grand slam-quality hard tennis court.
New Wellness Programming: In a first for Asia, a groundbreaking Cancer Care Massage has been launched at both Resorts' spas, enabling therapists to perform massage at any time during a guest's cancer journey, to soothe dry or radiation-irritated skin, release scar tissue, provide lymph support and nurture the soul. Meanwhile, The Sacred River Spa has introduced Qigong and Crystal Reiki classes. Resident Wellness Mentor and former Buddhist nun Ibu Fera combines the Japanese art of reiki with crystal singing bowls, mantra chanting, gemstones and aromatherapy, to induce a deep sense of peace and security, and enhance sleep quality.
Chef-Guided Culinary Excursions: Guests can get off-the-beaten-track and into nature with a chef-guided picnic adventure in the Sayan Valley. The experience starts with a trek to a secluded riverside location in the jungle, only accessible to Four Seasons guests, where the Resort's chef will set up a camp kitchen and cook a Balinese-style picnic in the wilderness.
New Concept at Sundara Restaurant: In one of the biggest transformations in Bali's vibrant dining scene, Sundara has relaunched its dinner concept with a new high-end barbecue menu. Inspired by the fiery sunsets and iconic beach barbecues of Jimbaran fishing village, every dish has an element of roasting, grilling or smoking, even desserts and cocktails. Using Indonesia's only Kopa Smoking Oven – an Austrian invention fuelled by coffee wood and renowned for its precision in smoke density and temperature control – the chefs infuse meats, seafood, sweets and plant-based dishes with a perfectly balanced smoky flavour and tenderness, for the ultimate barbecue experience.
Bartender Creations: Telu is the new aromatic herb and cocktail garden at Jimbaran Bay, made from 100 percent upcycled materials as a dedicated space for Head Bartender Sufian Mahmoud to lead Zero Waste bar workshops, and host intimate cocktail parties. Guests pick their favourite herbs and learn sustainable cocktail recipes, and see the ancient practice of claypot-aged arak brought back to life. At Sayan's Jati Bar, a new menu of barrel-aged cocktails puts a local twist on classic recipes, complementing Jati Bar's natural teakwood design and open-air setting overlooking the river valley.
On-Site Cultural Activities: Inspired by a Balinese village, the Resort at Jimbaran Bay immerses guests in the sights and sounds of Bali. New activities include a traditional fire blessing and ocean blessing by resort priest Ajik Ngurah, Indonesian martial arts and Sanskrit calligraphy class. These add to the existing program of local artist workshops, Balinese cooking school, yoga, meditation, architecture and garden tours.
Off-Site Activities: Bali is looking more lush and green than ever, and there is no better time to explore its historical sites and diverse landscapes. Nobody knows the island like Four Seasons expert guides, who are leading new off-site activities such as mud wrestling, a cycling tour along the south-west Bukit peninsula, canyoning, chasing waterfalls and more. Let Four Seasons present a whole new side of Bali, in the utmost comfort and care.
---
---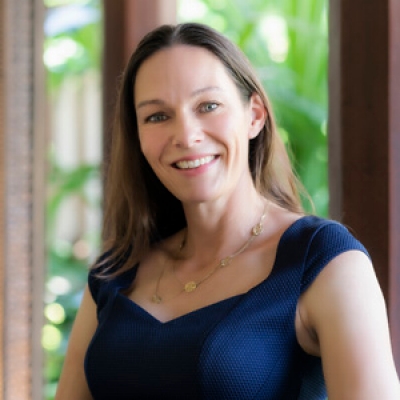 Marian Carroll
Regional Director of Public Relations and Communication

Jimbaran, 80361
Indonesia
---
Four Seasons Resort Bali at Jimbaran Bay
PRESS KIT

Visit Four Seasons Resort Bali at Jimbaran Bay Website
Four Seasons Resort Bali at Sayan
PRESS KIT

Visit Four Seasons Resort Bali at Sayan Website