Back
Ten Unexpected Ways to Explore the World's Best Hotel
In announcing Four Seasons Resort Bali at Sayan as the winner of its annual readers' survey, Travel + Leisure highlighted the resort's "sense of calm" combined with "innovative and modern" new experiences awaiting guests.
"Obviously, to be named No. 1 a hotel must be consistently excellent across the board," said the magazine's editor-in-chief Nathan Lump. "It's got to have good bones, yes, and it needs to have great people who can build on those bones to transform the place into an experience. At the Four Seasons I especially appreciated how often I was surprised by something I saw or tasted or did, which reminded me that the most memorable hotels and resorts are also about creativity, experimentation, and innovation."
Here are just ten of the innovative experiences available at Four Seasons Sayan, for our guests to connect to the heart and soul of Bali:
LEARN YOURSELF, OR LEAVE IT TO THE EXPERTS: Challenge your other half to a cook-off at Bali's first custom-designed riverside cooking school, Sokasi. Under the guidance of Chef Suta, take a tour of the local markets and the resort's own vegetable gardens. Learn to make all-time Balinese favourites or opt for a plant-based menu, in keeping with Ubud's heritage as the island's wellbeing hub. If you would rather leave the local cuisine to the experts, join the exclusive Chef's Table Dinner and savour a 7-course menu including 12-hour roast duck and 4-hour suckling pig cooked just for you at Sokasi.
CAN YOU KEEP A SECRET? If so, hop into our open-air vintage VW to visit a secluded water temple, far from the selfie crowds. Bathe in the cool, blessed spring water and refresh your body and soul with a Balinese water purification ritual. Guests are asked to resist the temptation to tag/name this temple on social media, out of respect for the village's wish to preserve its tranquility.
TAKE THE ROAD LESS TRAVELLED: Another way to get off the beaten track and meet the locals is with complimentary guided tours like the 60-minute Sayan Village Walk or Cycling experience. For a bigger challenge, sign up for the exclusive Bongkasa Cycling Tour through a pristine and rarely-visited rice farming village.
LAUGH THOSE WORRIES AWAY: A great way to release any stress or tension you've been bottling up is by laughing your heart out with Putu Purnama at Laughter Yoga. Because laughter fixes everything. Don't believe us? Give it a try!
I BELIEVE YOU CAN FLY: It's also true that you can fly! Bali's only certified AntiGravity Yoga will have you swaying and swinging through the air to deeply stretch muscles and release happy hormones. A pure silk hammock strong enough to support a baby elephant will safely help you into inverted poses even from your first lesson. The benefits may even see you walk out a little taller.
FLOAT AWAY DOWN THE RIVER: Navigate your way along Bali's longest river, the Ayung, which is a main source of the UNESCO Heritage-listed subak irrigation system for traditional rice farming. The Four Seasons Private Rafting experience is as scenic as it is fun; there's even a part where you can hop out and float on your back down the river, looking up into the forest canopy above. The experience conveniently lands directly at Riverside Pool, where a hearty lunch awaits you.
ROOF-TOP DINING: Enjoy the dramatic views high above the treetops from the elliptical rooftop lotus pond with a Private Romantic Dinner, or even a Sunrise Canopy Breakfast. Definitely worth waking up early for – even while on holiday – to catch the first light of day from this stunning vantage point.
ROCK-A-BYE BABY: Don't remember being rocked to sleep as a baby? Let yourself be taken back to this nurturing childhood ritual with a Sacred Nap by Ibu Fera, immersed in the tranquility of the Sayan Valley. For families, if the little ones refuse to take a rest, let them burn off their energy at Pici Pici Kids Club while you enjoy the luxury of an afternoon nap.
RE-BALANCE YOUR ENERGY: Embrace the healing energy of the Sayan Valley with chakra rebalancing spa treatments. Our seven signature Chakra Ceremonies each have a corresponding Chakra Yoga class to further enhance the benefits. Take a private consultation with our wellness experts to find out which of your energy wheels may need an adjustment, and learn which yoga poses are recommended for your specific needs, to help protect yourself against negative energy forces in future.
LET'S DANCE: Marvel at the beautiful costumes and incredible skill on display at a Balinese dance performance in the Lobby, against a backdrop of the lush valley. Even if you've seen a performance before, it is definitely worth seeing one here. The dance troupe from the local village is accompanied by a full gamelan orchestra, and it is an amazing spectacle. The dancers will happily pose for photos afterwards and even teach you a few steps!
---
---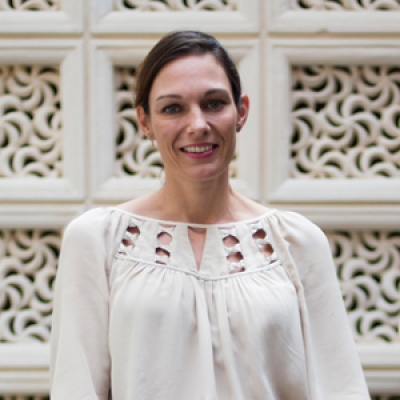 Marian Carroll
Regional Director of Public Relations and Communication

Jimbaran, 80361
Indonesia
---
Four Seasons Resort Bali at Sayan
PRESS KIT

Visit Four Seasons Resort Bali at Sayan Website