Back
Wellness Mentor Ibu Fera Reveals the Story Behind the Creation of the Sacred Nap
Heny Ferawati, known informally as Ibu Fera, is a Wellness Mentor at Four Seasons Resort Bali at Sayan. Here, she offers insights into the Resort's Sacred Nap program.
How long have you worked at Four Seasons Resort Bali at Sayan?
Since October 2014
How was the Sacred Nap developed?
I was inspired to create the Sacred Nap while I was rocking my own baby to sleep. Most of us have forgotten how good and nurtured it felt to be rocked to sleep and have somebody read you a bed-time story or sing a lullaby. I combine this with telling the life story of Buddha and chanting various mantras that I learned when I was a Buddhist nun for seven years. The soothing sound of the singing bowl offers more sacred energy for this experience.
Is the Sacred Nap a Balinese tradition?
Yes, most Balinese mothers rock their babies to sleep using a batik sling, singing traditional lullaby songs and telling a story until the baby falls asleep. Instead of a batik sling, at Dharma Shanti Bale we use our aerial silk hammocks, which were previously only used for AntiGravity Yoga. We now use them to make people fly and also to sleep.
What makes the Sacred Nap so special?
It takes you back to experience the beautiful feeling of being a baby, combined with powerful healing of sacred chanting and singing bowl music, engaging your inner self with the nature around you.
What are the main health benefits of the Sacred Nap?
Deep relaxation, which is good for boosting immunity, and maintaining healthy blood pressure, heart and brain circulation.
When you're not rocking people to sleep, what do you like to do in your free time?
A midnight water purification at Tirta Empul Temple, is the best to refresh my energy and the night ambience is very mystical. It's also quieter than during the day as not so many people go there at night.
On another note, where is your favourite place to shop in Ubud?
Pureland Gallery on Jalan Dewi Sita in central Ubud. I sometimes purchase jewellery and singing bowls there, but often I just come to this gallery to play the various sizes of singing bowls and other Buddhist Tibetan instruments. I enjoy the feeling surrounded by so many spiritual tools.
What is your favourite restaurant in Ubud?
Sayan House. The food is excellent, it has a beautiful view of the Sayan Valley (including Four Seasons Sayan, which looks like a spaceship from this spot!), and a romantic atmosphere for dinner.
What is your next inspiring creation?
I am currently recording an album inspired by the Sacred Nap, so people can listen to it wherever they are in the world. Most people don't get to hear the full story of Guatama Buddha when doing the Sacred Nap as they fall asleep, so I have recorded the full story and this is overlaid with live recordings of the wildlife and surrounding valley environment at Sayan. On some tracks, our Spa Director Luisa Anderson plays a set of crystal singing bowls. It's really beautiful.
---
---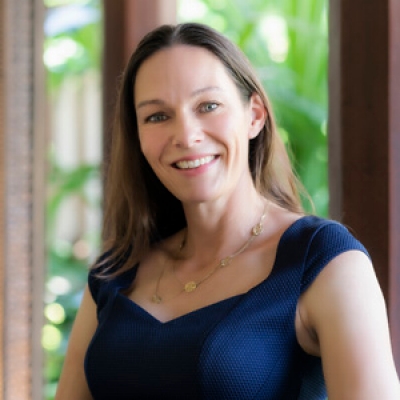 Marian Carroll
Regional Director of Public Relations and Communication

Jimbaran, 80361
Indonesia
---
Four Seasons Resort Bali at Sayan
PRESS KIT

Visit Four Seasons Resort Bali at Sayan Website