Back
Couples Connect – Top Five Romantic Experiences on Desroches Island
Seychelles, Desroches Island
Four Seasons Resort Seychelles at Desroches Island is a haven for couples who seek to escape together to their own paradise and discover romantic experiences at every turn. Fourteen kilometres (8.7 miles) of untouched beaches outline the Seychelles outer island, just waiting for a couple in love to find their perfect hideaway.
To inspire your next romantic getaway, we've put together a list of our top five favourite experiences for couples to share together.
Watch the Sun Go Down
There are many beautiful places to watch the sunset on Desroches Island, but two of the best are at The Lighthouse or by The Bar at Claudine. When at The Bar, order our signature Desroches Piña Colada cocktail, made using freshly squeezed coconuts handpicked from trees growing right here on the island. Don't forget to bring your camera as you'll catch a pretty special view of the sunset from here, reflecting beautifully on the still water of our infinity pool.
A Private Dining Experience
Your spacious villa will become your home away from home during your stay, but it can also transform into a private pop-up restaurant under the stars. Allow our team to bring dinner to you, with a romantic table set up on your terrace and the sounds of the ocean waves to set the ambience.
Connect and Stretch
Join the Resort's yoga instructor at the Spa's open air pavilion for a yoga session, where you can both share the experience of unwinding surrounded by nature. Should you prefer, we can also arrange a private yoga class for you in your villa's own poolside cabana.
Spa Together
Head to the Circle of Connection Spa to discover our menu of exclusive Terres d'Afriques treatments that can be performed in synchronicity as you relax together in one of our couple's treatment rooms overlooking the Indian Ocean.
The Perfect Picnic
Head off together on an island adventure to visit beaches such as Madam Zabre, Aquarium or North Point, where you can find your own little picnic spot. After pre-ordering your menu and selecting your preferred beach location, our team will be there to deliver your picnic straight to your romantic location, on what will feel like your own private island.
---
---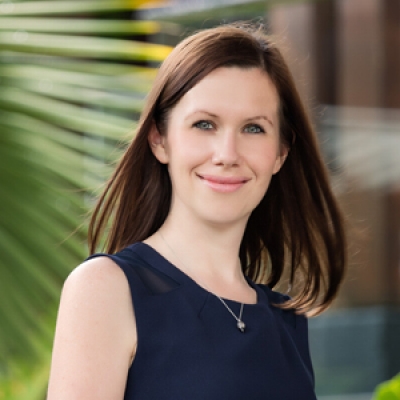 Debbie Duval
Senior Director of Public Relations and Communications

Beau Champ,
Mauritius
---
Four Seasons Resort Seychelles at Desroches Island
PRESS KIT

Visit Four Seasons Resort Seychelles at Desroches Island Website