Back
The Tzar Experience: Caviar Menu at Four Seasons Hotel Lion Palace St. Petersburg
The Tea Lounge at Four Seasons Hotel Lion Palace St. Petersburg invites you to feel like a tzar with its caviar menu. The team of Chef Matteo Guida has assembled the most luxurious tasting set of the signature Russian speciality product. They serve black, red, and white caviar of premium fish species of different origin, from the Caspian Sea to Siberia, with the traditional accompaniments so that you can enjoy the unforgettable Russian gastronomy experience in the atmosphere of St. Petersburg's imperial chic.
The first on the list is the legendary white sturgeon (beluga) caviar from Astrakhan, also known as "The Caspian Queen." Tasting this rare anthracite-coloured caviar next to the residence of Russian tzars is a truly exclusive experience intended for very special guests. Gourmands will also appreciate the other variety — the 15-years old black Russian sturgeon (osetra) caviar with subtle creamy and nutty notes.
Traditional Presentation
According to the Russian caviar etiquette, the cooled caviar is served on a plate without ice so that it can warm up to room temperature. This way it fully reveals its flavours. In the magnificent Tea Lounge at Four Seasons Hotel Lion Palace St. Petersburg, the caviar is eaten in the Russian style. Chef recommends to spread it generously over the warm blinis with butter and boiled egg. The slightly salty rich taste of the main Russian gourmet item can be enhanced with a sip of ice-cold vodka. This is an ideal pairing that gives guaranteed heavy goosebumps and is especially tempting in winter.
About The Tea Lounge
The elegant Tea Lounge resides in the bright glass-roofed atrium of Four Seasons Hotel Lion Palace St. Petersburg. The lounge is buried in verdure of the year-round interior garden. The Tea Lounge menu by Chef Matteo Guida offers traditional Russian dishes made with premium local produce: Kamchatka crab, marbled beef, game, and berries. Here you can enjoy an elegant Champagne breakfast, have an afternoon tea with sandwiches and desserts by the star pastry chef Nicolas Lambert, or relax in the evening with a cocktail à la russe created by Four Seasons Hotel Lion Palace St. Petersburg chef-mixologist.
---
---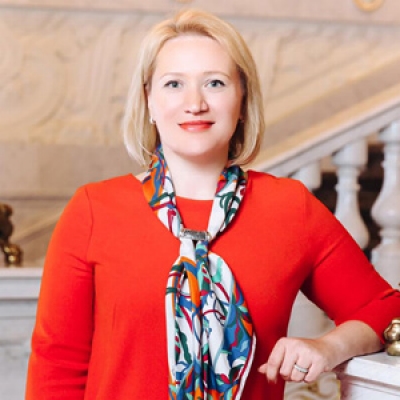 Ekaterina Saburova
Director of Marketing
1 Voznesensky Prospekt
St. Petersburg, 190000
Russia
---
Four Seasons Hotel Lion Palace St. Petersburg
PRESS KIT
Visit Four Seasons Hotel Lion Palace St. Petersburg Website