Back
Rotunda Bar and Lounge at Four Seasons Hotel London at Ten Trinity Square Appoints Ayoub Radi as Head Bartender
May 10, 2022,
London at Ten Trinity Square
Rotunda Bar and Lounge at Four Seasons Hotel London at Ten Trinity Square announces the appointment of Ayoub Radi as Head Bartender.
Having learned his trade in the heart of London, working his way round the city's thriving and innovative bar scene, for the past four years, Ayoub has been working at the bar at Mei Ume at Four Seasons Hotel London at Ten Trinity Square, serving signature Asian inspired cocktails and learning the intricacies of sake, shochu and Japanese whiskeys.
Ayoub applies a "less is more" attitude to his practice and focuses on mixing simple cocktails with a complex flavour. This attitude is embodied by his favourite cocktail The Godfather, a simple blend of Scotch whiskey and amaretto, elegant yet refined and made complex by the smokiness of the whiskey, which both contrasts and balances the sweet and slightly bitter notes of the amaretto.
Now, Ayoub has brought this knowledge to Rotunda Bar and Lounge and, alongside his team, is focusing on the experience at Rotunda as a whole. Ayoub has reworked the cocktail menu to accompany the East meets West experience at Four Seasons Hotel London at Ten Trinity Square, offering a carefully curated selection of experimental cocktails to diners. The new menu has been designed to mirror the very walls of Rotunda Bar and Lounge and showcase its feng shui elements of earth, water, fire, wood and gold. Each element has its own cocktail dedicated to it, made with carefully selected ingredients to represent the element. For example, the Fire will be a subtle but punchy blend of spice and woody undertones served with an oak scented smoke; golden in colour, The Gold, will be a luxurious and elegant cocktail, with mineral tasting notes and finished with a touch of gold leaf.
---
---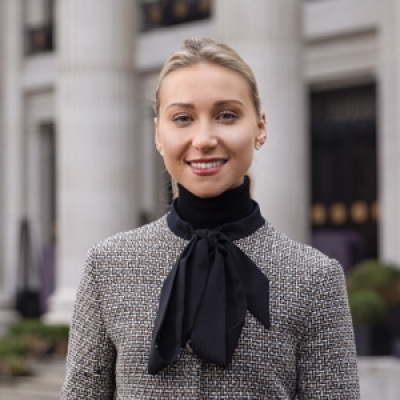 Grace Roome
Public Relations Manager
10 Trinity Square
London, EC3N 4AJ
UK
---
Four Seasons Hotel London at Ten Trinity Square
PRESS KIT

Visit Four Seasons Hotel London at Ten Trinity Square Website