Back
Five London Markets Within Walking Distance of Ten Trinity Square
London at Ten Trinity Square
From foodie heaven at Borough Market to eclectic arts and crafts at Old Spitalfields Market, some of London's oldest markets are located within walking distance of Four Seasons Hotel London at Ten Trinity Square:
Leadenhall Market
Just a short walk from Four Seasons Hotel London at Ten Trinity Square is Leadenhall Market. A covered market under a beautiful Victorian roof, Leadenhall dates back to the 14th century when it became a popular meeting place for first poulterers and then cheesemongers – shops fronts to this day still feature the wrought iron hooks where produce used to hang. Having survived changes in use, rebuilding and even the Great Fire, it is now a destination for local office workers and visitors who can be found browsing the food stalls or relaxing over lunch in one of the many restaurants. A popular film location, Harry Potter fans will certainly recognise Leadenhall Market as the area of London leading to the popular wizarding pub The Leaky Cauldron and Diagon Alley in Harry Potter and the Philosopher's Stone.
Old Spitalfields Market
An eclectic market close to Liverpool Street Station, Old Spitalfields with its impressive array of stalls and shops makes for a fun and lively shopping destination. Trading has been taking place on this site since 1666 with stall holders doing their best to meet the needs of London's rapidly growing population and their appetite for fresh fruit and vegetables. Their success made Spitalfields Market a major centre for the sale of fresh produce until the need for bigger premises meant the fruit and vegetable market finally moved further east in 1991. With arts & crafts, fashion and food now taking centre stage, the market offers something for everyone. Thursdays are dedicated to a vast array of collectable vintage and antique gems while every first and third Friday of the month, a record fair showcasing rare vinyl attracts collectors from all of London and further afield.
Borough Market
London's most renowned food and drink market, Borough Market is a must visit destination for foodies. Located just across the river from Four Seasons Hotel London at Ten Trinity Square, the market has been serving the people of Southwark for more than 1,000 years. Rich in heritage and history, Borough Market brings together farmers, fishermen, cheesemongers, greengrocers, bakers and artisans offering an unprecedented array of fresh British produce and tasty treats sitting alongside specialties from around the world. Renowned chefs and food writers can often be found browsing the stalls while many of the markets food demonstrations and educational classes are also worth checking out.
Maltby Street Market
Founded in 2010, Maltby Street is one of the youngest markets in the area. Located just a short walk from Tower Bridge, the once quiet railway arches south of Bermondsey High Street have fast become a popular destination for gourmets. Open every Saturday from 9:00 am to 4:00 pm and every Sunday from 11:00 am to 4:00 pm, the market is a lively combination of stalls, shops, pop-up bars and eateries. After exploring the stalls and sampling many a treat, make sure to stop at the Little Bird Residency for a gin cocktail. Decked out 1940s furniture when gin first became a sophisticated drink, this eclectic spot makes for the perfect end to a visit to Maltby Street Market.
Smithfield Market
Packed with 800 years of history, Smithfield Market is the largest wholesale meat market in the UK and one of the biggest of its kind in Europe. Housed in three listed buildings in the Square Mile, the market is open Monday to Friday from 2:00 am and although some selling takes place until mid-morning, visitors wanting to experience the hustle and bustle of the market should arrive by 7:00 am. Early risers keen to discover the rich history of central London's last surviving market can join a monthly walking tour of Smithfield Market as organised by the City Guides. A true spectacle at Smithfield Market is the Christmas Eve meat auction when traders offer their remaining stock to the general public. Crowds gather at dawn to secure a good spot in front of the Harts of Smithfield shop. Upon announcing the price of a lot, people will hold their money in the air hoping to attract the auctioneers' attention. If you have been successful, he will grab hold of your wrist, take your money and not let go until he has made sure you have the piece of meat you bid for – a system that always seems to work, ensuring nobody goes home empty-handed.
---
---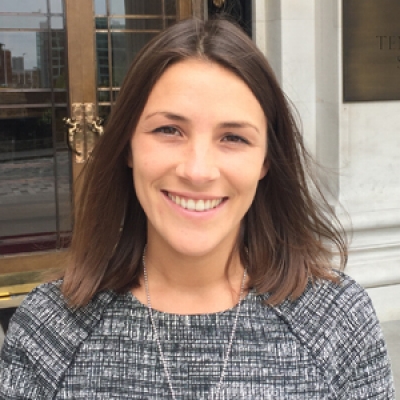 Gemma Minto
Director of Public Relations
10 Trinity Square
London, EC3N 4AJ
UK
---
Four Seasons Hotel London at Ten Trinity Square
PRESS KIT

Visit Four Seasons Hotel London at Ten Trinity Square Website