Back
See London from the River: Top 5 Sites to Explore on the River Thames
London at Ten Trinity Square
One of the best ways to explore London's key attractions is by river and for guests of Four Seasons Hotel London at Ten Trinity Square, it couldn't be easier. With Tower Pier and access to the Thames Clipper river bus services only moments walk away, make the most of the opportunity to see a selection of the city's finest historical landmarks and sites in one easy trip.
1. Tower Pier - Tower of London
Before boarding the Thames Clipper, take some time to explore the Tower of London, one of the world's most famous fortresses. Admire the Crown Jewels, walk the Tower's walls or enjoy tales of intrigue, imprisonment, execution, torture and much more from the Yeoman Warders.
2. London Bridge City Pier - Borough Market
Take the Thames Clipper Stopping Service West to London Bridge City Pier and visit London's oldest food market, serving the people of Southwark for more than 1,000 years. Borough Market is a dynamic, ever-changing space where exceptional producers and traders meet, creating market stalls, shops and restaurants that reflect London's status as a truly global city. Try Wright Brothers for the best oysters and shellfish, Bread Ahead for delicious baked goods and fuel up with a caffeine hit from Monmouth Coffee before heading to Neal's Yard Dairy, the legendary cheesemaker, to sample some of their finest aged cheeses.
3. Bankside - Shakespeare's Globe Theatre
Hop back onto the Thames Clipper and journey one stop further to Bankside to explore Shakespeare's Globe Theatre, a faithful reconstruction of the open-air playhouse designed in 1599 where many of Shakespeare's original plays were performed. Today, it is a unique international resource dedicated to the exploration of Shakespeare's work and the playhouse for which he wrote. Enjoy a performance of one of Shakespeare's classics or opt for a theatre tour and visit to the exhibition.
4. Bankside - Tate Modern
Just a short distance along the river from The Globe Theatre sits London's premier contemporary art gallery, the Tate Modern. Following a recent development project, the Tate Modern has expanded to offer more spaces for displaying the collections, performance and installation art and learning, allowing visitors to engage more deeply with art, as well as creating more social spaces to unwind and relax in the gallery.
5. Westminster - The Houses of Parliament
Finally, continue another four stops along the Thames Clipper route towards The Houses of Parliament, with its famous clock tower, Big Ben. Parliament is open to all UK and overseas visitors to attend debates, watch committee hearings or take a tour inside the historic buildings. The guided tours take visitors into both the Commons and Lords Chambers and historic Westminster Hall.
---
---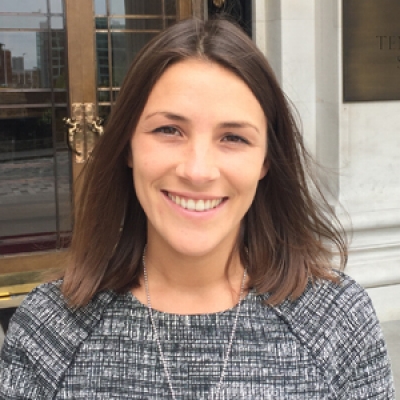 Gemma Minto
Director of Public Relations
10 Trinity Square
London, EC3N 4AJ
UK
---
Four Seasons Hotel London at Ten Trinity Square
PRESS KIT

Visit Four Seasons Hotel London at Ten Trinity Square Website