Four Seasons Hotel Casablanca Participates in Goût de France - Good France for Second Year
This March 21 experience the best of French cuisine in a setting with unparalleled views on the Atlantic
March 15, 2017,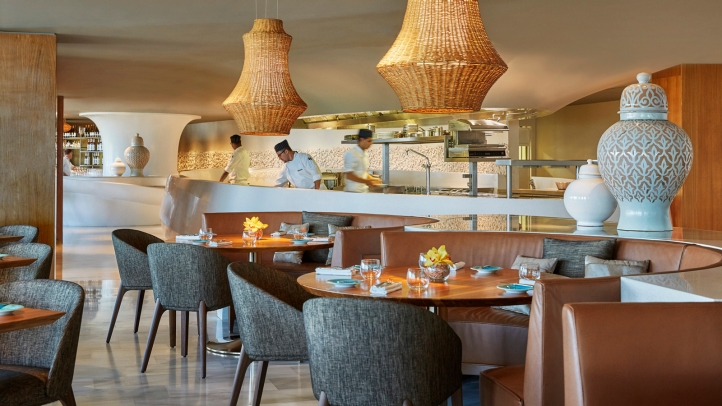 On March 21, 2017, a total of 2,000 chefs on all five continents are expected to join, for the third consecutive year, Goût de France / Good France, which will celebrate the best in French gastronomy.
Four Seasons Hotel Casablanca will pay homage for a second year in a row to French cuisine with a world-class dining experience proposed by Executive Chef Thierry Papillier and Executive Pastry Chef Thierry Metee at signature restaurant Bleu.
Participating restaurants, including Bleu, will have a chance to showcase the best in French cuisine, and according to the Good France website, "Dinners served simultaneously in participating restaurants will honour the merits of French cuisine, its capacity for innovation, and its values: sharing, enjoying, and respecting the principles of high-quality, environmentally-responsible cuisine."
A committee of international chefs led by Alain Ducasse has hand-picked chefs all over the world to participate and are tasked with ensuring that menus put forward by participating chefs are representative of French gastronomy. The one guideline that must be followed by all chefs is the use of vegetables and grains, to encourage healthy eating.
This year's menu is a gustative voyage to the heart of French cuisine. To whet the appetite, the Hotel's chefs have concocted a classic French menu that is representative of the bourgeoisie French cuisine, starting with an ox tail terrine followed by snails à la bourguignonne as the second entrée and leading to the main dish, duck parmentier accompanied with fois gras, truffle and jus, and ending on a sweet note with a mandarin and lemon religieuse.
---
---
Jihane Ayed
Public Relations Director
Anfa Place Living Resort, Boulevard de la Corniche, Ain Diab
Casablanca, 20050
Morocco