Back
The Newly Reimagined Fresca Bistro & Lounge at Four Seasons Hotel Alexandria at San Stefano
The renovated dining concept returns with Mediterranean cuisine on the menu and a stylish scene indoors and outdoors
July 7, 2023,
The beauty and bounty of the Mediterranean are on the menu at Fresca Bistro & Lounge, the newly reimagined, all-day dining concept serving regional dishes at Four Seasons Hotel Alexandria at San Stefano. Conspicuously renovated yet maintaining the inviting warmth and sun-kissed spirit that has encouraged a dedicated following among locals and international travellers, Fresca now combines traditional Mediterranean temptations served in relaxed, home-style presentations, with a sunny ambiance conceived to appeal to everyone from ladies who lunch to executives breaking from business, and group gatherings of families and friends in between.
All the colours of a sunny day welcome diners at Fresca, with stylish design by renowned French interior designer Pierre-Yves Rochon, who shaped the Hotel. The result sets the stage for friendly service with a warm and casual atmosphere detailed with contemporary furnishings, potted and planted greenery, and floor-to-ceiling windows with views past striped curtains to vibrant scenery on the Corniche.
Branded with the Italian word for "fresh," Fresca's new identity is as colourful and vibrant as the snap of seasonal produce on its plates. The name also calls to mind the nutty crunch of fresca wafers sold to beachgoers across Alexandrian shores. Like the call – "fresca, fresca" – of the tanned locals who shoulder glass boxes filled with treats, the name evokes satisfying bites, luminous settings, and a placid, playful vibe.
Leading the culinary talent and Fresca's menu is Executive Sous Chef Alessio Pitazalis. Newly arrived at Four Seasons Hotel Alexandria at San Stefano, Pitazalis brings experience to spare, with his roots on the Italian island of Sardinia, renowned for rugged coastlines and cuisine shaped by regional cultures, and decades spent fashioning Mediterranean cuisine for luxury hotels and resorts from Dubai to Moscow, Bahamas to Baku.
A passionate traveller excited by other cuisines, Pitazalis has focused his career on his own. "The appreciation I have for the flavours of the Mediterranean and the cultures that create them have only deepened over time," says the Chef. "At Fresca, I am building on what I have inside, what I learned from Sunday lunches with my family, and what has been taught by many mentors who guided my path here."
Created in an open kitchen showcasing the culinary team in action for guests, the menu that Pitazalis crafted at Fresca highlights creative contemporary, classic, and even fusion interpretations of iconic dishes influenced by coastal countries of the Mediterranean, including the cuisines of Greece, Italy, Spain, and the Levantine, as well as local favourites.
Breakfast specialities run from stone oven baked shakshuka to crepe and pancake with choice of toppings. Lunch and dinner creations include an authentic selection of Mediterranean cuisine, with full-flavoured, family-style mains such as seafood paella, mushroom risotto, and prime beef tenderloin dressed in specialty sauces. Vegetarian and vegan offerings are also well represented, and the team is superb at shaping everything to meet dietary needs of guests.
A key personality of Fresca's kitchen is the Pizzaiolo, who works with freshest ingredients and a specialty pizza oven. Italian born and trained, the Pizzaiolo really knows how to put on a show with a pie, creating authentic pizzas from an extensive menu served sizzling to stay or boxed to go. The Pizzaiolo also delights with manakeesh, the popular pickup dish from the Levant region, with house-made dough topped with spice blends, vegetables, cheeses, meats and more.
Many other pleasures wait off the main dining menu and throughout the day at Fresca, including an extensive mixology program crafting original cocktails, fully loaded, and non-alcohol drinks with lively ingredients. Coffee culture is also celebrated with barista-prepared specialties, and shisha service is available on the terrace.
With its own entrance directly from the Corniche, Fresca is laid out on the Hotel's ground floor with seating for 155 guests to enjoy the indoor and outdoor experience or book the terrace for private events. Inside, guests are seated at tables surrounded by comfortable chairs in shades of aquamarine, roomy banquettes cushioned in dark blue, and white mid-back seating at the bar. The tiled flooring glimmers with a geometric pattern in white and black, while contemporary wall art, hanging teardrop lighting, handsome shelving, and other details complete the interior scene.
Fresca's terrace is similarly styled for guests to kick back and enjoy, with high tables surrounded by cushioned seating and banquettes, as well as broad white umbrellas to shield patrons from the Mediterranean sun. An outdoor bar ensures good times on the terrace, with the same cocktails and mocktails mixed indoors and an enthusiastic team to create and serve them.
The combination of superb seasonal ingredients, creative Mediterranean cuisine, and brilliant design inspired by its beachfront setting make newly renovated Fresca a strong addition to the Hotel's international culinary scene and a perfect fit for guests visiting historic Alexandria on business or leisure.
Fresca is open seven days through the week from 9:00 am to 12:00 midnight, serving breakfast, lunch and dinner. For reservations, call +2 03 5818000, or email fbreservations.alexandria@fourseasons.com.
---
---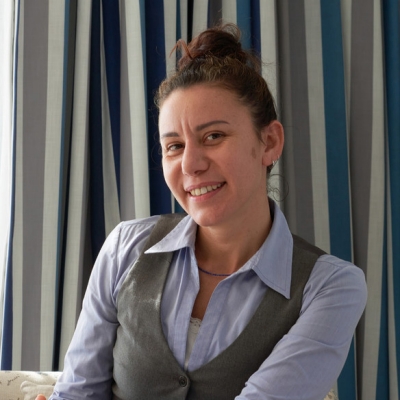 Sarah Nabil
Director of Public Relations
399 El Geish Road
Alexandria,
Egypt
---
Four Seasons Hotel Alexandria at San Stefano, Egypt
PRESS KIT

Visit Four Seasons Hotel Alexandria at San Stefano, Egypt Website