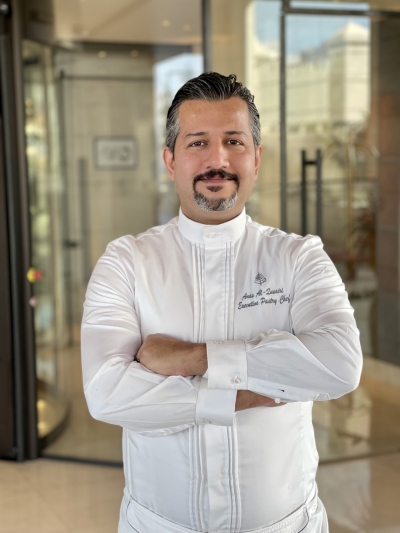 Anas Al Qusairi
Executive Pastry Chef
"Baking is fun, so when I bake, I love my surroundings to be bustling with energy so I prefer to work with music playing and in the company of lots of people."

Four Seasons Tenure
Since 2008
First Four Seasons Assignment: Assistant Pastry Chef, Four Seasons Hotel Amman
Employment History
Safeway Pastry & Bakery Shop, Marriot Amman Hotel, Sweet Dreams Bakery & Ice Cream
Birthplace
Education
John Adams High School, Miami, Florida
Languages Spoken
Anas Al Qusairi has been making life sweeter at Four Seasons Hotel Amman since 2008, when he joined as an Assistant Pastry Chef. The Jordanian national was promoted to Pastry Chef after just a year in the Four Seasons kitchen and is now the first and only Jordanian Executive Pastry Chef at Four Seasons Hotel Amman. He is a Bedouin from Zarqa, Jordan. Zarqa means "blue city," and is the third largest after Amman and Irbid.
Anas was born into a family where his  father and grandfather were in the army or worked with the government. So naturally, he would follow suit. But Anas had a different plan for himself. Since 1993, he knew he wanted to be a chef and he made his dream a reality.
Anas makes a mean mohalabia, which is a traditional Middle Eastern milk pudding. It is light and refreshing – the perfect dessert to enjoy after a heavy meal, especially when paired with the tangy flavour of orange jelly, orange sorbet and a sprinkling of ghribia crumble to add a bit of crunch.
A few fun facts about Anas: His favourite condiment is Tabasco - he likes his food spicy. The three items always stocked in his pantry are: brown sugar, za'atar (thyme) and pomegranate molasses. His guilty pleasure snack is pumpkin seeds. He says, "when I start it's very difficult to stop." His favourite tools are: espuma gun, bakery rolling pin and carving knife. And his favourite cooking show, naturally, is Cake Boss.