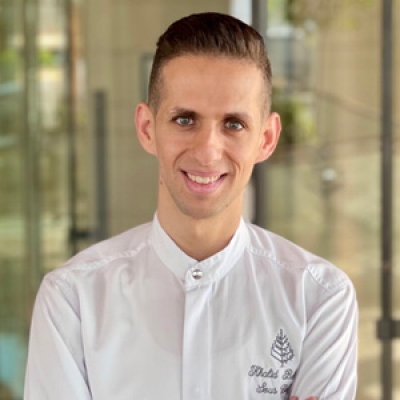 Khalid Ballout
Chef de Cuisine, La Capitale Brasserie
"'I'm excited to be leading the team at La Capitale and my goal is to leave guests with memorable experiences, and let them know they're part of our family."

Four Seasons Tenure
Since 2012
First Four Seasons Assignment: Cook 3, Four Seasons Hotel Amman
Employment History
Landmark Hotel; Marriot Amman Hotel

Birthplace
Languages Spoken
Khalid is from Ramallah, Palestine, but he was born in Amman, Jordan. His father worked in the hotel industry, so it has been in his blood since he was a young boy. He was always fascinated by his father who worked in the front office but Khalid's had a different passion and that was the kitchen. He was so dedicated to the hotel industry that after the school day he interned at the Marriott Hotel in the evenings.
Khalid started his career at Four Seasons Hotel Amman back in 2012 in the position of Cook 3. He was part of the opening of Olea Restaurant in 2013, which offered Levant cuisine, and he supported the team at FIVE Grill & Lounge and the Italian restaurant, Vivace. In 2014 he received a double promotion to Cook 1. To enhance his experience and further develop himself, Khalid completed a task force at Four Seasons Hotel Riyadh during Ramadan, and shortly after that was promoted to Demi Chef. He then completed a task force in France at Grand-Hôtel du Cap-Ferrat, A Four Seasons Hotel. Shortly after that he took on the role of Chef de Partie at The Foyer Lounge of Four Seasons Hotel Amman. Khalid's drive, passion and commitment led him to our signature brasserie, La Capitale, where he was the Junior Sous Chef learning from the French Chef de Cuisines that headed the restaurant. That catapulted him into the role of Sous Chef, acting as the Head Chef of La Capitale since 2021, and now Chef de Cuisine since 2022.
Khalid is fascinated with doughs and making pizza but through his vast experiences working with renowned chefs, he has also developed a love for creating and plating seafood dishes.