Back to Main
Four Seasons Resort and Residences Anguilla
Barnes Bay, P.O. Box 8028, West End, AI-2640, Anguilla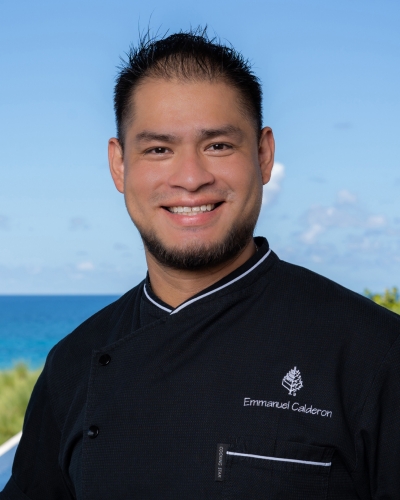 Emmanuel Calderon
Executive Chef
"I have always been driven by a pure love of food – and to this day, it is where my happiness as a chef comes from."
Four Seasons Tenure
Originally 2009; now since 2011
First Four Seasons Assignment: Cook III, Four Seasons Resort and Club Dallas at Las Colinas
Employment History
Four Seasons Hotel Seattle; Four Seasons Resort The Biltmore Santa Barbara; Four Seasons Resort Scottsdale at Troon North; Four Seasons Hotel Mexico City; Holland America Cruise Line; Four Seasons Resort and Club Dallas at Las Colinas; Le Blanc Spa Resort, Cancun, Mexico; The Royal Cancun and Playa Del Carmen Resort, Cancun, Mexico; Hotel Gran Caribe Real, Cancun, Mexico; Hotel Costa Real, Cancun, Mexico
Birthplace
Languages Spoken
As a teenager growing up in the Mexican peninsula of Yucatan, Emmanuel ("Manu")Calderon discovered his passion for food out of necessity. "I was hungry all the time, which hasn't really changed at all!" His passion for flavours, textures and aromas developed as he waited patiently in the kitchen as his grandmother and mom prepared family meals.
Earning his stripes, Emmanuel began his career as a kitchen apprentice, which was not as glamorous as it sounds. "My main responsibility was to wash dishes," muses Calderon. "So I made the most of my extra time in the kitchen by learning from the chef about cooking." Little did he know that this was the beginning of an international career that would eventually land him at Four Seasons Hotel Seattle as Executive Chef.
Emmanuel's career continued upward, as he worked in various luxury hotels throughout Mexico, tasked with increasing levels of responsibility and professional growth, including hotel openings and culinary competitions such as the Joven Chef Mexicano, where he was recognised as one of the top 10 best young chefs from Mexico.
His experience on cruise ships was instrumental in his career growth, learning along the way to Italy, Greece, Istanbul and throughout the Mediterranean Sea, where he led a multicultural team from Indonesia, the Philippines and India. Those experiences helped further develop his understanding of not only different cooking styles, but also how different cultures come together to eat and the social importance of dining.
Prior to making his way to Anguilla, Manu worked at a number of Four Seasons in North America including properties in Seattle, Santa Barbara, Scottsdale, Mexico City, and Dallas. In addition, he held various "task force" roles at Los Angeles, Santa Fe, Baltimore, Punta Mita and Costa Rica properties where he assisted with the planning of award show parties, served as a "pop up" chef for special events, assisting with openings and even helped international chefs acclimate to their new city. "Everywhere I have been influenced who I am as a person and as a chef – I feel incredible lucky, and I love to share these experiences with our guests, through the flavours and presentation of my food."