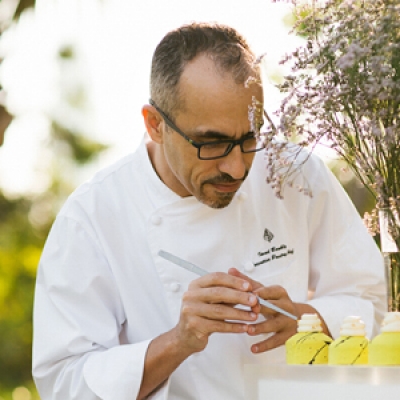 Imad Boukli
Executive Pastry Chef
"Love what you do in order to do what you love."
Four Seasons Tenure
Employment History
Four Seasons Hotel Riyadh at Kingdom Centre, Dusit Thani Dubai, Le Royal Meridien Abu Dhabi, Le Meridien Hotel Damascus
Education
Culinary and Hotel Management Degree, Hotel and Tourism Center  - Ministry of Tourism, Damascus, Syria
Birthplace
Languages Spoken
A veteran to Four Seasons, Chef Imad joined the pre-opening team of Four Seasons Hotel Bahrain Bay in 2014.  Prior to moving to Bahrain, he lived all over the Middle East cooking and working as a pastry chef at several properties including five star hotels in Abu Dhabi, Dubai, and Riyadh. Having gained remarkable experience in the hotel industry, Chef Imad moved up the ranks at Four Seasons Hotel Riyadh at Kingdom Centre, where he served as Executive Pastry Chef and was responsible for an extensive culinary operation.
Chef Imad's passion for chocolate started at a very early age.  While other kids were more intrigued by toy cars and playing soccer with schoolmates, his mind was rather revolving around the fascinating world of chocolate. "Before I used to go to sleep, I always pictured a unique shape in my mind and tried to come up with a way how it could be recreated using pure chocolate. My favourite shapes to mold in the beginning were mainly animals like a cat or a dog, but it did not take too long to excel in forming desserts in more advanced shapes."
Being a true culinary artist, Chef Imad has a philosophy of keeping it authentic, fresh and seasonal, using only the best ingredients.
His experience in the Middle East has given him opportunities to learn different cultures, techniques and flavour combinations, while always embracing his Syrian culinary roots. When asked what he considers as best part of his job, he pauses with contentment, "That genuinely happy smile on the guest's face when he or she first catches sight of her personalised treat is just priceless to me."
Chef Imad currently oversees all pastry aspects of the Hotel including Bay View Lounge, Bahrain Bay Kitchen, in-room dining, weddings, meetings and events. He is excited to bringing new ideas and flavours to Bahrain, an island destination known for its diverse culinary scene.
Other than creating breathtaking wedding cakes, Imad's passion also lies in spending precious time with his family: loving wife, his daughter - who deliberately prefers to be called "princess" by her dad - and two adorable sons.