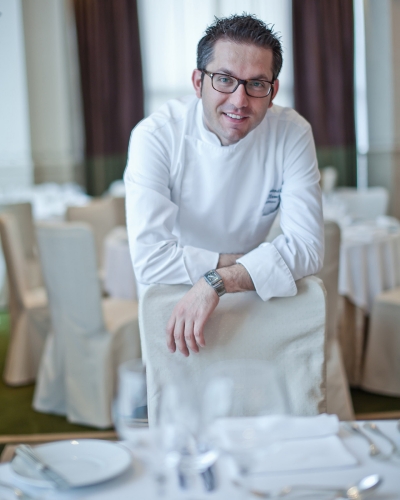 Leonardo Di Clemente
Executive Chef
"Coming from a true Italian farmer family, using healthy and fresh ingredients and mixing 'mamma style cuisine' with current culinary trends have always been my prime goals in the kitchen."
Four Seasons Tenure
Since 2001
First Four Seasons Assignment: Four Seasons Hotel London at Canary Wharf (formerly a Four Seasons hotel)

Employment History
Four Seasons Hotel Prague; Four Seasons Hotel Gresham Palace Budapest; Boscolo Etoile Academy Tuscany, Italy (teacher); I Luoghi di Pitti Relais Altamura, Italy; Four Seasons Hotel Tokyo at Chinzan-so, Japan (formerly a Four Seasons hotel); Four Seasons Hotel London at Canary Wharf (formerly a Four Seasons hotel); Park Hotel Laurin Bolzano, Italy; Hotel Suvretta House St Moritz, Switzerland; Hotel Astoria Florence, Italy;

Birthplace
Education
Addetto Al Servizi Alberghieri Di Cucina Bari, Italy – Catering Diploma for Hotels (Diploma Di Qualifica Professionale)
Languages Spoken
Being one of the most highly respected chefs of his generation, Executive Chef Leonardo Di Clemente is happiest when creating local traditional dishes spiced up with his Mediterranean approach. As a boy, Di Clemente was taught by his parents, both farmers, to create meals from the fresh fruits, vegetables and herbs grown in the fields. Di Clemente's mother cooked at home and was his earliest inspiration, though the budding chef worked first at a very young age at the local pastry shop before finally making his way into a commercial kitchen.
It was while working for Hotel Suvretta House in Switzerland – and travelling away from Italy – that Di Clemente first realised the importance of the traditional Italian way of cooking. He decided then and there to dedicate himself to ensuring that the craft was kept alive. Di Clemente was also invited to teach at Boscolo Etoile Academy, one of the most prestigious catering institutes in Italy.
His five years in Tokyo were also one of the most important periods in his career. "I had the opportunity to live in the centre of high gastronomy, in the city with the highest number of Michelin star restaurants. I was amazed by the quality of the products, the simplicity, the respect chefs are paying to the ingredients and the number of cooking techniques used for one degustation menu. I enjoy working with raw fish and so look forward to applying some of the techniques in the crudo at CottoCrudo restaurant."
Di Clemente has collaborated on several ETOILE publications such as Il Buffet Secondo L'Etoile Caldo E Freddo, Tapas and Italian Recipes CD Collection – born out of his Puglia roots and memories of his childhood.
Married with two kids, Di Clemente decades of experience in the industry and commands a high level of respect within his field.