Back
Four Seasons Hotel Baku Celebrates World Kindness Day in Collaboration with Barza Collection
November 10, 2023,
This year Four Seasons Hotel Baku together with Barza Collection joins the global movement of celebrating World Kindness Day. A pop-up art exhibition and sale A Piece of My Heart, featuring the works of many well-known Azerbaijani artists, will take place on Monday, November 13, 2023, at one of the Hotel's Panoramic Suites, overviewing the breath-taking Caspian Sea and city skyline. The exhibition will be exclusively open to in-house guests of Four Seasons Hotel Baku as well as to invited residents of the city who will have unique opportunity to purchase artworks.
Throughout this day, Four Seasons Hotel Baku and Barza Collection will consciously perform acts of kindness such as supporting local talents to express their artistic voice and providing 10 percent of the proceeds from the event toward the support of children from disadvantaged families.
About the Exhibition A Piece of My Heart
Bringing together works by a kaleidoscope of Azerbaijani artists, this exhibition reflects themes of love, compassion, empathy, and connection, inviting viewers to immerse themselves in the depths of the human heart. Featured artworks by artists such as Irina Eldarova, Niyaz Najafov, Ramina Saadatkhan, Agil Abdullayev and Shakhnaz Aghayeva illustrate the far-reaching impact art has had on humanity. Variations of the vibrant colours, tender imagery, and evocative symbolism are highlighted by the tensions that inhabit the poetics of each artist in the exhibition. The exhibition also celebrates love's altruistic nature, portraying acts of kindness, compassion, and empathy that reflect the depths of human connection.
Participating Artists
Irina Eldarova (b. 1955) is a Moscow-born artist educated at the Saint-Petersburg State Academy and Moscow State Institute. Her versatile practice spans graphics, illustrations, video art, photography, and painting. Notably, she's known for her massive marble reliefs at Baku's Halglar Dostlugu metro station. Using vibrant colours and nostalgic imagery, she infuses her work with irony and reflection. Irina's creativity is permeated with kindness and warmth, reflecting her own bright inner world. The artist subtly feels the atmosphere of the moment, transmitting it to the viewer through the objects and compositions she has chosen.
Niyaz Najafov (b.1968) is one of the most sought-after contemporary artists both in his homeland and Paris, where he has been living since 2009. Najafov's artworks have exhibited throughout Europe – London, Paris, Berlin, Moscow, and Geneva. Inspired by other self-taught artists such as Paul Gaugin and Francis Bacon, it was only in 2003 that he began to experiment with oil paint. In a short span of time, he has been touted to be the next "Francis Bacon" and has since been chosen to represent his country, Azerbaijan, at the 53rd Venice Biennale in 2009. The Spring Bloom series presents a limited collection of Niyaz's flowers, painted by him in Paris. The author himself admits that his flowers are a kind of gift to all women, and while working on them, he feels happier than usual.
Ramina Saadatkhan (b. 1977) creates on her canvas an alarming, yet triumphant feast of colours, lines, and shimmering forms. Using bright colours and elements of nature in unnatural contexts, her paintings invite viewers to reconsider their relationship with the world by emphasizing how bizarre the ordinariness of daily life can be. Most notably, Ramina's artworks were seen by thousands at the 59th Venice Biennale as part of Azerbaijan's national pavilion presentation. The series of works Love is... is a colourful immersion into the emotional world of the artist. Each painting symbolizes love as a powerful source of energy and transformation.
Agil Abdullayev (b. 1992) is a contemporary artist who expresses his art through various mediums, including video, paintings, and community-based projects. In this series, the artist envisions what his childhood room would have looked like if he had ever had one. His paintings embody the joy of childhood and boundless imagination as if he were rediscovering the world through the eyes of a child. Memories of difficult childhood years in poverty became a source of inspiration for Agil. The lack of toys led him to begin building his own world of imagination, filling it with tenderness and kindness. This experience is reflected in many of his works, where the colours become brighter and the shapes simpler as if he were conveying the purity and simplicity of a child's soul.
Shahnaz Aghayeva (b. 1984) trained as a graphic artist and holds a master's degree from the Azerbaijan State Academy of Art. She has exhibited at fairs, biennales, and festivals in France, Turkey, Georgia, and more. Her work features a woman and the way she is treated in society, how a woman feels, and identifies herself in modern society. The central theme of Shahnaz's work is the inner world of a woman, her feelings, secrets, and passions that remain behind the scenes of everyday life. In her paintings, Shahnaz tries to capture that special facet of female love, which personifies not only attraction to other people, but also to herself, to the surrounding nature, and to life itself.
About Barza Collection
Barza Collection is a curated art gallery with a selection of artworks by today's most sought-after artists. They believe anyone who loves art can start their own collection of artworks, and their mission is to help everyone with it. Barza Collection offers unique products and services that create a dialogue between person and the artist, bringing art into their space. Behind Barza Collection is a team of professionals with a wealth of experience in curatorial, production and creative work.
---
---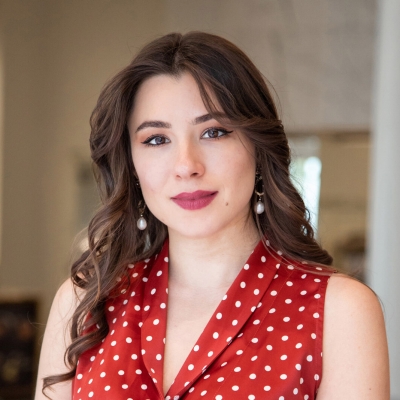 Marta Elizarova
Public Relations Manager
1, Neftchilar Avenue
Baku, AZ1095
Azerbaijan
---
Four Seasons Hotel Baku, Azerbaijan
PRESS KIT

Visit Four Seasons Hotel Baku, Azerbaijan Website