Back to Main
Four Seasons Hotel Beijing
48 LiangMaQiao Road, 100125 Beijing, Chaoyang District, China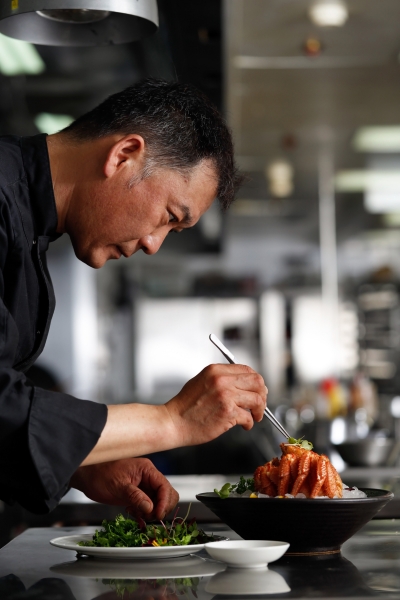 Li Qiang
Chef de Cuisine, Cai Yi Xuan
"Innovation is always based on tradition."
Four Seasons Tenure
Since 2012
First Four Seasons Assignment: Sous Chef, Cai Yi Xuan, Four Seasons Hotel Beijing
Employment History
Jin Jiang Hui, Kunlun Hotel, Beijing; Tian Di Yi Jia, Beijing; Yu Chi Huang, Tianjin; Chao Zhou Xuan, Tianjin
Birthplace
Languages Spoken
Food has always been a family affair for Chef Li Qiang. A gastronomic childhood in his hometown of Tianjin – Li Qiang's father loved to cook and had many professional chef friends – inspired the passion for cooking that has nourished a creative and innovative twenty-year career.
Chef Tan Jinqiang, one of Hong Kong's top chefs, provided mentorship for a young Chef Li for more than ten years. "He taught me everything about life and work," says Chef Li. "From the cutting board to the wok to kitchen management, I learned from his patience and attention to detail. I was so grateful to him for that."
A close friendship with Chef Lu Yiming, a Michelin-starred chef in Shanghai, further mentored Chef Li and sparked a vibrant collaboration in the mouth-watering menus at Cai Yi Xuan. Chef Li credits Chef Lu Yiming for introducing him "to the Four Seasons family," and the two push one another to constantly evolve the exquisite dishes at Cai Yi Xuan.
Within the decadent decor and lively ambience of Cai Yi Xuan, a restaurant whose name aptly translates as "the art of dining," Chef Li brings his fresh vision to traditional favourites using beautiful seasonal ingredients. Exquisite dim sum stuffed with foie gras offer an artful elevation of Cantonese favourites, while Chef Li's culinary innovations – such as wok-fried prawns with fermented black garlic and dried chili – invite ecstatic taste sensations. Stylish simplicity is at the heart of his approach, along with a strong respect for tradition. "Creativity is wonderful, but we should never forsake tradition," he says. "Innovation is always based on tradition."
Chef Li's inspirations come from his reverence for Chinese culture, nature, and fresh seasonal produce. "Dining in China is so much more than a meal," he says of his ever-evolving repertoire that draws on Cantonese, Beijing, Tianjin and Teochew influences. "It's an emotional experience, drawing on childhood memories, our connection with family, the roots that sustain us." Coupled with his meticulous eye for detail, Chef Li hopes that his innovative play with China's rich cultural cuisine will "strengthen the connection between people and food."
With that ancient Confucian philosophy as his bedrock, he is sure to be creating "food for thought" masterpieces for many years to come.