Back to Main
Four Seasons Hotel Beijing
48 LiangMaQiao Road, 100125 Beijing, Chaoyang District, China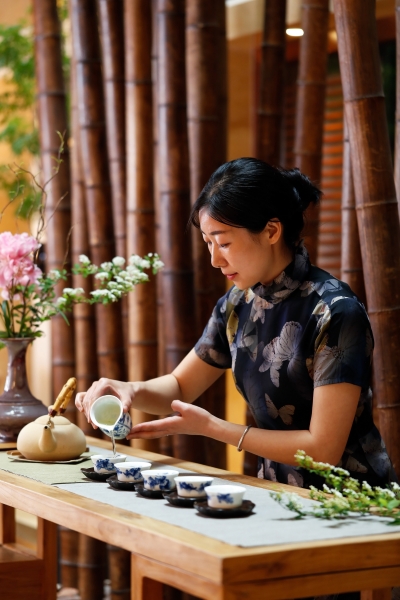 Rita Feng
Tea Specialist at Tea Garden
"There is no limit to the art of tea."

Four Seasons Tenure
Since 2012
First Four Seasons Assignment: current
Employment History
Crowne Plaza Beijing, China; Swiss Hotel Beijing, China
Birthplace
Education
Computer Network Major, Weifang Commercial College Shandong Province
Languages Spoken
Rita Feng has always had an interest in tea culture. While in university, she chose to study the art of tea as an elective, and upon graduation she began working in the lobby of Swiss Hotel Beijing, where she was exposed to a wide variety of brews. She became a certified tea master in 2007.
Rita is the perfect fit for Tea Garden, where the focus is on the traditional Chinese gong-fu style of tea, which involves the ritualised preparation and presentation of tea that originated in Fujian Province and the Chaoshan area in eastern Guandong Province. "It's an intimate act between guests and tea specialists that demonstrates both artistic merit and skills in brewing and serving tea," says Rita. As a tea master, Rita knows the origin of tea, tea production, processing and the characteristics of individual varieties. Rita often studies tea in her spare time, and has traversed mist-shrouded mountains in Yunnan Province picking wild tea leaves.
"Tea is more than a refined hot beverage. The taste soothes the mind and purifies the heart," she says. "The wide range of natural aromas transports you through time and space. Tea can also open the door to Chinese culture and history. Tea can even stimulate your creativity. Tea culture is extensive and profound, ranging from the origin of tea to the appearance of the tea set."
At the Tea Garden, Rita helps curate teas to fit the 12 Mountains with 12 Teas theme, a nod to the varieties of tea and the different techniques for bringing out the flavour of each.
"Every cup of tea has a story to tell," says Rita.