Back
Four Seasons Bogotá Hosts Valentine's Acts of Love
February 11, 2023,
Love is in the air at Four Seasons Hotels in Bogotá, and each Hotel's suites is a treat that we are excited to highlight this month. At Four Seasons Hotel Casa Medina, Bogotá guests can stay in a one-bedroom colonial-classic style suite – one of them with a lovely balcony – or the specialty suites, including the fifth floor penthouse where guests can sink into a leather club chair by the fire or have an elegant Valentine's meal in the spacious dining room; and the colonial suite where guests can take a spa-style soothing bath and relax with their Valentine in front of a wood-burning fireplace.
The charming suites at Four Seasons Hotel Bogotá are imbued with contemporary elegance, especially the penthouse, which includes a private terrace, a wood-burning fireplace, Egyptian cotton sheets, and fresh flowers for a romantic getaway.
To enhance those special moments of loving care, try the Spa's signature body treatments: the Colombian Green Coffee Wrap and the Citrus Paradise, and in addition to Colombian tropicality, the Swedish or hot stones massage, and the facial Glamour, perfect for special events. Whatever the choice, don't miss the double cabin designed for a romantic Spa experience.
And because love is all around us, why not make the decision to have a dream wedding at Four Seasons Casa Medina? Not only does the Hotel team excel in organizing and hosting these special events, they also truly enjoy celebrating one the most symbolic rituals of love in their hotel.
Love is Cool in Bogotá - Walk Through Clouds and Mountains
Let the Concierge arrange a day of sightseeing for two, followed by a couple's massage in the spa or a dinner at any of the city's best restaurants. Bogotá is well known for its vibrant nightlife and its gastronomic scene is increasingly interesting. Drawing on the country's biological and cultural diversity, Four Seasons can book guests a special meal to taste contemporary Colombian gastronomy, or Mexican, Italian, American, French or Spanish cuisine.
Romance can also flourish when the sun shines, so start the love adventure by checking out the top attractions of the capital city: the beautiful Museo del Oro (Gold Museum) and Museo Botero (named after the Colombian painter Fernando Botero) that exhibits Latin America's best art, both located in the iconic colonial Candelaria neighbourhood. A visit to mount Monserrate is also worth it, to fully appreciate the grand circuit of the mountains and to deeply breathe the cool air and fog of the city forest. With more than 20,000 plants among the famous orchids, palms and Andean forest trees, the José Celestino Mutis Jardín Botánico (Botanical Garden) will give visitors a broader sense of Colombian ecosystems and wonderful landscapes. The Garden is also ideal for bird watching. Since Colombia is the country with the highest number of bird species in the world, this is a must. The experience is relaxing, recharging, and inspiring.
Other Moments of Togetherness
Four Seasons Hotel Bogotá can offer unforgettable moments of romance and luxury to celebrate the month of love. La Biblioteca, at Four Seasons Bogota, is a modern lounge with all-day dining and tasty dishes such as shrimp tartar with papaya nibs, crispy quinoa, pork acevichado with Colombian sour cream, a chicken roll in tare sauce, and sophisticated cocktails and mocktails. Castanyoles, in Casa Medina, is a stylish Spanish bar and restaurant, with a greenhouse atrium that's perfect for a Valentine's date, or a quick bite with a signature cocktail before enjoying Bogota's nightlife. In-room dining day or night is also available in both hotels for guest comfort and romantic spontaneity. Don't miss out on the Colombian bread basket, fresh juices made with local fruits for breakfast, or the grilled octopus with native Colombian potatoes, among other Spanish and global classics reinterpreted with local ingredients.
Adding to the relaxing vibe of the spas and its special treatments for two, the Hotels offer valet parking, bicycle rental, a daily newspaper and luxury bath products, among other pampering amenities.
Celebrate love and life, either at Four Seasons Bogotá in the heart of the Zona Rosa area and steps away from the city's best shopping, nightlife and cafés; or at Four Seasons Casa Medina, a landmark 1964 building in the gourmet Zona G.
This Valentine's luxurious journey calls for an extra day of romantic relaxation, so the third night is on the house, always accompanied by perfectly poured Colombian coffee.
For reservations contact +57 601 325 7900 or book online here or here.
---
---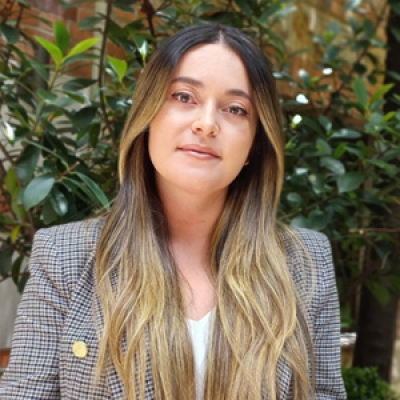 Laura Quintana Niño
Cra 7 No. 69A-22
Bogotá DC,
Colombia
---
Four Seasons Hotel Bogotá
PRESS KIT

Visit Four Seasons Hotel Bogotá Website
Four Seasons Hotel Casa Medina Bogotá
PRESS KIT

Visit Four Seasons Hotel Casa Medina Bogotá Website