Back
Make Art Hunting an Adventure in San Felipe, a Chic Urban Scene for Contemporary Art in Bogota, Colombia
Renowned as a top destination for urban art in Latin America, Bogota is now a big draw for contemporary art as well. Leading the way and lighting a path of discovery for art enthusiasts from Four Seasons Hotel Casa Medina Bogota and Four Seasons Hotel Bogota is San Felipe, a former residential neighbourhood dotted with bakeries and auto parts stores in the north of the city that has become an arts scene all its own.
San Felipe began its transformation from what the Bogota Post called a "down-at-the-heel hood" in 2010 when architect Alejandro Castaño purchased a residence there to house his art collection. Pleased with the setting, he bought additional houses with plenty of rooms to lease to artists as studios and workshops, and he encouraged others to do the same.
These days, the district is a "chic urban art scene" similar to Soho in New York City, with the facades of houses lit up in vibrant colours and more than 20 galleries and artist workshops showcasing creative talent from around the world and all over Colombia.
SGR Galería, for instance, is focused on promoting works by modern Latin American artists and offers a stimulating-yet-accessible experience that challenges pre-conceived ideas about traditional forms of exhibition. Founded in 2014, Galería Beta focuses on abstract, conceptual, architectural, and natural works of art by contemporary artists from Colombia and Latin America who have been at it for a bit, or for more than a bit. Espacio KB, another well-known gallery, offers an edgy scene that is a magnet for hipsters and culture vultures who like to party hearty – and who doesn't? "No tourists here!" notes Lonely Planet of the Espacio KB vibe.
Among other artistic outlets for Four Seasons guests to check out and enjoy are SKETCH, La Galeria de Elvira Moreno, FLORA ars+naturea, LGM Galeria, Galeria Doce Cero Cero, Instituto de Visión, Espacio Van Staseghem, and more.
Recurring art events add to the destination's appeal, including and especially Noche San Felipe, held monthly, when local cultural spaces open their doors for artists, students, collectors, and anyone interested in art to come inside and explore. The neighbourhood also comes alive during ARTBO, Bogota's annual international art fair and one of the largest of its kind in Latin America, with galleries throughout the capital displaying works from hundreds of artists to promote the arts community in Colombia.
Whatever your taste, budget, or appetite for art, plan a day in San Felipe and you'll come away satiated. The neighbourhood is chockablock with restaurants, bars, and cafes for gallery hoppers to dine, drink, and enjoy. Among recommendations from Bogotá Lure, for instance, are Oculto and the gourmet BBQ joint Chicheria Demente, hailed for its "souped-up versions of Colombian classics to share."
Ask the Concierge at Four Seasons to arrange transportation and plot a path for you to get the most from your time in San Felipe, or follow in the footsteps of the hipsters and see where your tastes take you. Art is an adventure, after all!
To reserve a stay at Four Seasons Hotel Bogota, see your travel professional, contact +57 6013257900, or book online.
---
---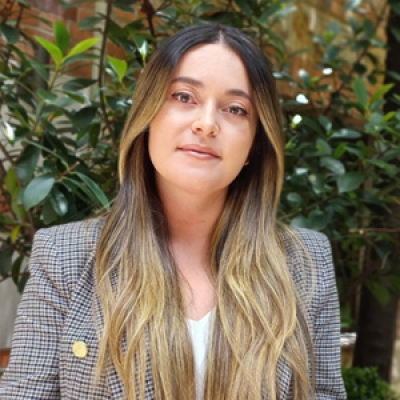 Laura Quintana Niño
Cra 7 No. 69A-22
Bogotá DC,
Colombia
---
Four Seasons Hotel Bogotá
PRESS KIT

Visit Four Seasons Hotel Bogotá Website