Back
Tour of Bogotá: Brighten Your Stay at Four Seasons Hotels Bogotá with Local Day Tours of the Colombian Capital and Beyond
Like any big city, Bogota and its surroundings hold an array of cultural and natural wonders to explore. But also like any big city, the capital of Colombia can take time to get to know. Flipping through tour guides, travel sites, and social media can sure help, but they can also be unwieldy for anyone with limited time and attention to spare. Instead, guests of Four Seasons Hotel Bogota and its sister address Four Seasons Hotel Casa Medina Bogota are recommended to pop by each Hotel's respective Concierge Desk where intimately knowledgeable experts will point them in the best directions for activities and adventures to fill their days.
One great way to get going is with a guided tour of city sites and scenes. Here is just handful that are offered locally – and there are many more available beyond:
A Real Humdinger
Is there any avian cooler than a hummingbird? Nope. But don't take our word for it: see for yourself on a Colombia Hummingbird Watching Tour. Witness the high-strung beauty of dozens of species flittering frantically about the Hummingbird Observatory in La Calera, a rural town 90 minutes outside of Bogota. Tours led by expert bilingual guides reveal many fascinating characteristics of hummingbirds as well as conservation efforts being undertaken on their behalf. Expect vivid colours, unique sounds, even the feel of flapping wings – and if you're lucky, sight of a legendary sword-billed hummingbird whose beak is longer than its body. Duration: 4 hours
All that Glitters
The Legend of El Dorado may be a myth, but it can be a real adventure for travellers on tour. On the Guatavita Lake Tour, explore the circular, emerald-coloured lake where the legend began when indigenous Muisca priests covered themselves with gold dust and dove in as worshipers tossed in jewellery and trinkets of the precious metal. This daylong guided tour includes transportation in a private vehicle to the lake for a unique view of Bogota's savannah, as well as a visit to the fascinating village of New Guatavita, home to some of the country's most beautiful artisanry. Duration: 5-9 hours
Where Green Becomes You
Bogota has a well-tended Eden all its own, and it's right in the heart of the city. See plants from every corner and altitude of Colombia on the Bogota Botanical Garden Tour, an easy-going ramble through Jose Celestino Mutis Botanical Garden. Spread across nearly 20 hectares (50 acres) next to Simon Bolivar Park, the garden honours the memory of the botanist, mathematician, astronomer and philosopher who led a significant royal botanical expedition to New Granada under Charles III of Spain. There are more than 19,000 live plants and some 2,300 taxa of cultivated plants onsite, including more than 5,000 species of orchids, plus 5 special collections focused on the conservation of endangered Andean plants, and a wealth of programming to educate visitors on ecosystems around Bogota. Duration: 3-4 hours
Let's Eat!
One attribute shared by every Colombian? An appetite for good food. Dive into some of the finest menus in the capital and get a feel the cosmopolitan spirit of its people on a Bogota Food Tour. Led by an expert bilingual guide, guests will explore gastronomical neighbourhoods such as La Macarena, La Candelaria, and Usaquén, with opportunities to enjoy dishes from various regions created from local products and served in typical preparations. Choices include a spectacular Food Tour to experience all flavours of the country, and a Gastronomic Tour with a professional chef to reveal techniques that go into Colombian gastronomy. Whichever you choose, take time to experience Four Seasons contributions to the city's culinary scene, with Castanyoles at Casa Medina offering a Colombian tasting menu of the best of local farmers and fisheries, and La Biblioteca at Four Seasons Hotel Bogota serving local and international specialties created from Colombian ingredients. Duration: 4-6 hours
Star Light, Star Bright
Not everything plays out at ground level in Bogota. Tour the beauty of the night sky at the Planetarium of Bogota, located in the International Centre in Independence Park in La Candelaria. Originally opened in 1969 as part of a cultural complex of nine museums, the recently modernized Planetarium offers eye-catching programming to educate visitors on what is floating around the heavens. With a new Griffyn 4K32-RGB laser projection system lighting up its domed ceiling, the Planetarium is among the most modern in Latin America. Duration: 45 minutes.
To reserve a stay at Four Seasons Hotel Bogota, see your travel professional, contact +57 6013257900, or book online.
---
---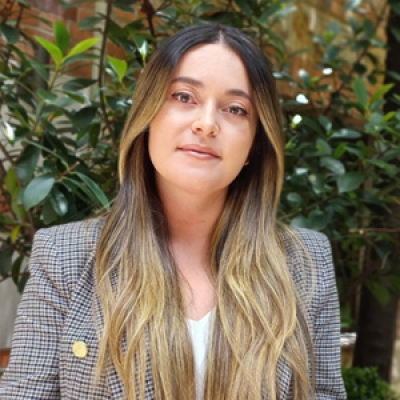 Laura Quintana Niño
Cra 7 No. 69A-22
Bogotá DC,
Colombia
---
Four Seasons Hotel Bogotá
PRESS KIT

Visit Four Seasons Hotel Bogotá Website