Back to Main
Four Seasons Hotel Gresham Palace Budapest
Széchenyi István tér 5-6., 1051 Budapest, Hungary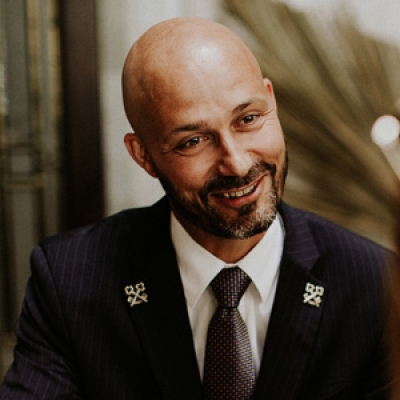 Peter Buday
Chef Concierge
"As I am not from Budapest the city has amazed me since I was a child and this feeling never passed."
Four Seasons Tenure
Since 2004
First Four Seasons Assignment: Front Desk Agent at Four Seasons Hotel Gresham Palace Budapest
Employment History
Hilton Budapest WestEnd; Kimpton Hotels & Restaurants, Seattle, USA
Birthplace
Education
Bachelor's Degree in Hotel Management and Economics, Western Hungarian University, Veszprém, Hungary;
Languages Spoken
Hungarian, English, German
Budapest is an old city that was reborn just a few years ago. Does it sound interesting? It does for Peter Buday, Chef Concierge at Four Seasons Hotel Gresham Palace Budapest, and also currently President of Les Clefs d'Or Hungary.  Budapest is becoming trendier than ever. Whether a first time visitor or returning again and again, the city has it all: historical and modern buildings; heritage and contemporary culture; a fresh gastronomical scene and nightlife.
"As I am not from Budapest the city has amazed me since I was a child and this feeling never passed. The long history and the rich architecture of the city makes me take photographs every day, just like a tourist, and this feeling I would like to pass on to every visitor," says Peter.
Budapest is the Paris of the East, but most of all Budapest is Budapest. Peter believes nowadays people should start referring to the city without any comparison. Travellers should know it will be a unique and amazing experience because Budapest has an amazing cultural life; world class restaurants with amazing food and great local wines; spas with natural thermal waters; the Danube river that creates a special atmosphere in the city with being separated yet deeply connected to its other half (Budapest is like a great love story of Buda and Pest where they are both complete personalities, yet they only make sense together). There are even caves under the city that are waiting for guests to explore.
What could be a better job than being a concierge in this city? At an early age he was connected to hospitality with his parents running a campsite at Lake Balaton, a very popular area among East Block tourists back in the days. That experience had a big effect on Peter's life and he never really thought of doing anything else, and this how he ended up in hotels. He was lucky enough to work for Kimpton Hotels in Seattle and after returning home, he worked for Hilton WestEnd for a short time just right before he found himself in the lobby of Four Seasons Gresham Palace in 2004. After a few years he became a concierge, a job he has always desired.  
Since becoming the leader of the team, his focus is on finding the best possible service providers in the city and the country. Whenever he can he is on the way to find new places and services starting from restaurants to flying on glider planes. Peter is especially happy that the Hotel, as of 2017, has its own Four Seasons sailing boat at Lake Balaton, the area he comes from. It is a perfect combination of world class service and local experience.