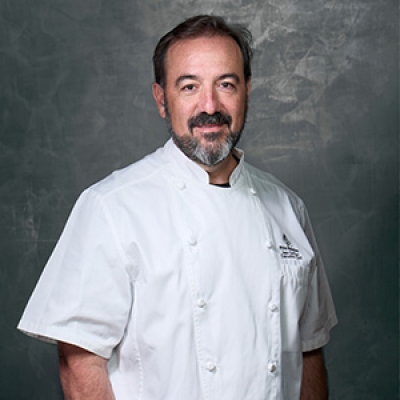 Juan Gaffuri
Executive Chef
"All of us chefs are talking about going back to basics these days. The challenge now is to prepare dishes perfectly, every time."
Four Seasons Tenure
Since 2001
First Four Seasons Assignment: Commis Cook, Four Seasons Hotel Buenos Aires
Employment History
Four Seasons Resort Sharm El Sheikh, Egypt; Four Seasons Hotel Washington DC; Four Seasons Resort Punta Mita, Mexico; Four Seasons Resort Aviara at San Diego (formerly a Four Seasons); Four Seasons Hotel Buenos Aires; Park Hyatt, Buenos Aires (now Four Seasons); Sheraton Hotel, Buenos Aires
Birthplace
Languages Spoken
"It was meant to be," says Juan Gaffuri of his 2011 transfer from a Four Seasons resort on the shores of the Red Sea in Egypt to don the Executive Chef's toque at the brand's property in the Argentinian capital. "Buenos Aires is where my career began, and Four Seasons is where I met and married my wife. The opportunity to return home came just as we were expecting our first child, so we knew it was the right time to come back."
Indeed, the globetrotting couple's wedding was held in the Hotel's historic La Mansión, originally a gift from Félix Saturnino de Álzaga Unzué to his bride, Elena Peña Unzué in the 1920s. Now, as Chef Juan presides over the menu of the new restaurant named Elena in her honour, his inspiration lies in that romantic tale, as well as his own culinary roots.
Growing up in Rosario, a city several hours north of Buenos Aires, the young Juan spent many happy hours helping in his grandmother's kitchen, often watching cooking programs together on tv. "Nowadays chefs all talk about getting back to basics, and for many of us that means skipping the supermarket and going back to the farm for ingredients to make our grandmother's dishes." That's not to say that modern techniques and few worldly influences haven't found their way onto the Hotel's menus. "Cooking in Mexico was a natural extension of the foods I grew up with, and in Egypt, I found many similar flavours and techniques. Buenos Aires has always been a cosmopolitan city, a melting pot of the Italian, Spanish and French traditions, so perhaps a little bit of the Middle East is the next evolution," he says with a smile.
With a clear focus on dishes that are perfectly prepared, Chef Juan finds that his youth spent learning the electrical trade has not gone to waste. "Precision is important, and in a busy kitchen, the ability to solve problems is critical." Happily, he's not alone, having found that many of his former kitchen "brothers" were still at the stoves when he returned to Four Seasons Hotel Buenos Aires. Together, they are serving up Argentina´s most authentic urban kitchen cuisine, plus an new style of Sunday Brunch that will no doubt become the best in town.
And with Guadalupe at his side - his own Elena - and young Jose Ignacio on his knee, it's good to be home.