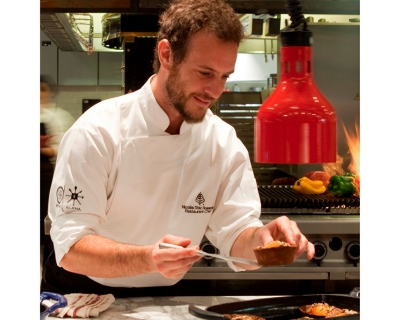 Nicolás Díaz Rosáenz
Restaurant Chef, Elena
"'Patience, perseverance and willingness' are the three pieces of advice I'd give to anyone taking their first steps in the culinary profession. As they grow into leaders, my advice changes to 'modesty, determination and sincerity'."
Four Seasons Tenure
Since 2005
First Four Seasons Assignment: Commis, Four Seasons Hotel Buenos Aires
Employment History
Olsen, Buenos Aires; Garbis, Buenos Aires; Te Matare Ramirez, Buenos Aires
Birthplace
Gualeguaychu, Entre Rios, Argentina
Education
Professional Chef Degree, Gato Dumas Kitchen School, Buenos Aires
Languages Spoken
Mentors are prime ingredients for many chefs, but not for Nicolás Díaz. "In the culinary world, I have no early mentors," he says, adding that though his grandmother cooked very well, he can't recall any fondness for the kitchen growing up in Argentina. Funny, then, that Diaz now styles dishes "in pure grandma's style" as Restaurant Chef of Elena at Four Seasons Hotel Buenos Aires.
"Our concept is local with dishes based on what Argentinians enjoy on Sunday evenings," he continues of the European-Argentinian cuisine served at the Hotel's new signature restaurant. "But it's refined, with perfection achieved through temperature, technique and ingredients."
For instance, Elena's house-made ricotta-stuffed ravioli with braised osso bucco is fashioned in a pressure cooker like grandma might have made it. Sweetbreads – popularly known as "Argentinean foie gras" – are served grilled with lemon emulsion. Octopus is grilled Spanish style – "a lot of grandmas in Argentina came over from Spain and Italy" – and served with truffled potato broth and pepperonata. And New York strip steak, known as bife de chorizo in Argentina, has a twist: "We dry age it in house for 60 days in a special refrigerator with exacting temperature and humidity control."
Diaz recalls his 2005 start at the Hotel as being "tough, as any new challenge is." Since assuming the top spot for the opening of Elena in December 2012, it has been smooth sailing. The restaurant quickly became a hotspot on the Buenos Aires scene, drawing 85 percent of its clientele from the capital city and surroundings. International arrivals, meanwhile, are treated to a relaxed and authentic affair with no dress code, reasonable pricing, and comfortable seating across two levels including a ground floor that spills onto the street.
While Elena's familiar, home-style cuisine presented few challenges for Diaz, working in an open kitchen took a bit of an adjustment. "I had never cooked in front of guests before." The inevitable interaction has proven beneficial, however, as by its very nature Elena's menu is reinvented every day. "It helps me to improve dishes to assure they appeal to guests," he says, noting that he can tell quite a bit by observing guests' body language as take their first bite.
Diaz brings a similar perspective to his kitchen. Over the years he has developed a very "sensorial approach" to cooking and management alike. He draws as much from his employees as he tries to impart and believes in lavishing sincere and genuine concern for each member of the team. He is not above giving hugs at the end – or beginning – of the day, he says. "It breaks the thin barrier between personal and professional life."
He also prefers to lead by example. "I am convinced that if I'm the first person to arrive every day, people cannot be annoyed at me when I point out that they are late. We spend thousands of hours together, and people have to know that we come here to work." Diaz says he learns everyday from employees even as he paves the way for those on their way up. "It must be how I was raised. As the oldest of four brothers I always felt a strong sense of responsibility to those still growing."
None of his brothers followed Diaz into the restaurant business, however. Indeed, he admits, "Nobody in my house was a good cook." Good thing, as the desire to eat well on a daily basis was what finally drew Diaz to the kitchen in his early twenties. "This profession has everything I look for artistically. I love the smells, the colours, the textures and the energy more than I can say." Grandma must be proud.