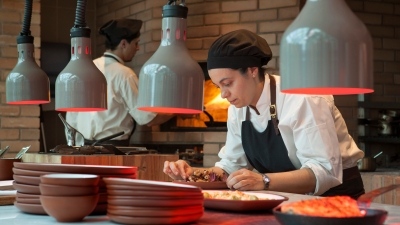 Patricia Ramos
Restaurant Chef, Nuestro Secreto
"Undoubtedly, fire is the heart of the kitchen, it´s a great element that provides colour, aromas, and special flavour to every dish no matter the ingredients."
Four Seasons Tenure
Since 2001
First assignment at Four Seasons: Chef de Partie
Employment History
Birthplace
Monte Grande, Buenos Aires, Argentina
Languages Spoken
Since she was a child, Patricia Ramos showed her passion for cooking. She was always helping her grandmother in the kitchen while watching TV shows with her. Saturdays were sacred in the Ramos family; it was a special day when everyone got together, and gathered around the fire to watch their father and grandfather cook the traditional Argentine barbecue. This is a great memory that inspires Patricia's current energy and passion for cooking with fire.
"It was always clear to me what path I wanted to follow," says Patricia. As soon as she finished high school she began studying gastronomy.
Years later, after acquiring outstanding work experience, Patricia was named Chef of Nuestro Secreto at Four Seasons Hotel Buenos Aires, and since that moment she has been focused on creating the best and only grill that offers a "gourmet Argentina experience."
"In Nuestro Secreto, each dish of the menu has a flavour and aroma that maks it unique, as a result of the high quality products, the dedication and the passion provided in their preparation. It is this aroma that connects me with my childhood memories and gives me the inspiration and passion that I put in each dish, to achieve an authentic Argentinean meal," says Patricia