Back to Main
Four Seasons Hotel Cairo at Nile Plaza
1089 Corniche El Nil, 11519 Garden City, Cairo, Egypt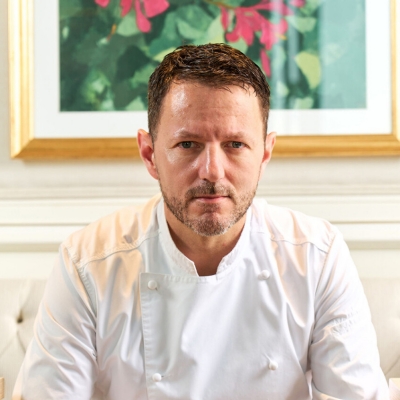 Benat Alonso
Executive Chef
"My approach to food is to offer luxury through thoughtfulness, quality and simplicity."
Four Seasons Tenure
Since 2022
First Four Seasons Assignment: Current
Employment History
Raffles Europejski Hotel, Warsaw, Poland; Hotel Windsor, Melbourne, Australia; Great Fosters Manor House, Windsor, England; The Berkeley Hotel, London; Old Course Hotel, St. Andrews, Scotland; Le Manoir aux Quat' Saisons, Oxfordshire, England
Education
Apprenticeship at two three-Michelin-star restaurants in San Sebastián: Arzak and Martín Berasategui
Birthplace
Bilbao, Basque Country, Spain
Languages Spoken
 Spanish, Basque, kitchen French, basic Polish and English
Bringing expert leadership to the ten restaurants and lounges at Four Seasons Hotel Cairo at Nile Plaza, Executive Chef Benat Alonso offers more than 20 years of culinary experience – ranging from his home in the Basque Country of Spain to England, Australia and Poland.
As Chef Benat explains, the main role of an executive chef is to manage the day-to-day operations of the food and beverage department. "I'm here to support the whole team, mentoring the restaurant chefs and creating a positive environment, while also managing the business side. I work with all the other departments to create the best experience for our Four Seasons guests."
"My approach to food is 'less is best.' Focusing on excellent product, genuine service and an emotional connection are what's most important to me when designing a memorable experience for guests. It's essential to respect the product, flavour and craftmanship."
Benat was born in Bilbao in the Basque Country of northern Spain, growing up in the countryside surrounded by beautiful nature. He entered the culinary trade at a young age, working in the tough kitchens of two celebrated restaurants in nearby San Sebastián: Arzak and Martín Berasategui, both with three Michelin stars.
As Benat says, "My grandfather always told me that it's only when work gets hard that it's worth doing. You'll never forget the lessons and will be prouder of the outcome. I learned a great deal from those two restaurants."
Moving to the UK in 2003, Chef Benat worked in the ranks with the acclaimed chef Raymond Blanc at Le Manoir aux Quat' Saisons (two Michelin stars) in Oxfordshire, and at the Old Course Hotel in St Andrews. He also worked alongside legendary chef Pierre Koffmann at The Berkeley Hotel in London, and at the historical Great Fosters Manor House (one Michelin star) in Windsor.
In 2013, he ventured to Australia where he reinvented his approach to hospitality at Melbourne's iconic Hotel Windsor, and joined an array of culinary projects all around Southeast Asia.
Returning to Europe in 2017, Chef Benat was part of the team to open Raffles Europejski Hotel in Warsaw, Poland. He and his team successfully established the destination's first true luxury property, quickly gaining recognition from Michelin and Gault Millau.
Now Chef Benat is very excited to be part of Four Seasons Hotel Cairo at Nile Plaza. "Throughout my career, I've always heard great reports from colleagues about Four Seasons, but it wasn't until I did my interviews that I understood the company's attention to detail. I realized I really wanted to work here. It's the first time I've felt genuinely welcomed to a team."
He particularly enjoys the hotel world. "What inspires me is how so many professionals from different departments work together to create a special experience for a guest. There's always a new challenge. Even when there's great pressure, there is a key moment when everyone gets together to deliver excellence to that one guest. It's incredibly satisfying."
Benat was especially excited about moving to Cairo. "I've always been obsessed with ancient Egypt. Cairo has always been a city where history was forged – even Laurence of Arabia was based in Cairo before he went on his quests. It's fascinating to walk these streets. I love the outdoors, so the desert and Egypt's numerous outdoor activities are very exciting too. Not to mention the food here is delicious!"
In his role at Four Seasons in Cairo, Chef Benat hopes to provide support to more local farmers. "I want to offer my knowledge and experience to local professionals and help in any way possible to develop the food trade in this city. I did it in Warsaw and it would be great to make a similar imprint in Cairo. For me food and society are bound together. I would be very proud to feel I could play a small role in helping Cairo become a major food destination in the region."