Back to Main
Four Seasons Hotel Cairo at Nile Plaza
1089 Corniche El Nil, 11519 Garden City, Cairo, Egypt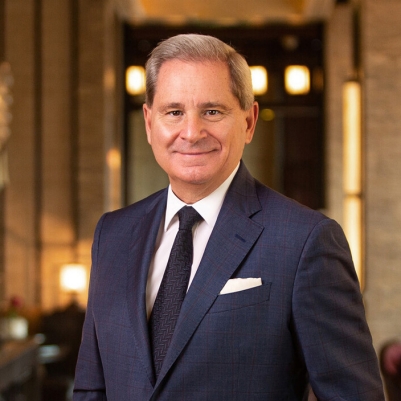 Yves Giacometti
General Manager
"If you approach an assignment with the intention of knowing the culture and taking advantage of the environment, you can learn quite a lot."
Four Seasons Tenure
Since 1985
First Four Seasons Assignment: Assistant Maitre d'Hotel, La Reserve, Inn on the Park Houston (formerly a Four Seasons Hotel)
Employment History
Four Seasons Hotel Gresham Palace Budapest; Four Seasons Hotel Buenos Aires and Four Seasons Resort Carmelo, Uruguay (formerly a Four Seasons hotel); Four Seasons Hotel George V Paris; Four Seasons Hotel Sydney; Four Seasons Hotel Buenos Aires; Four Seasons Resort Carmelo, Uruguay (formerly a Four Seasons hotel); Four Seasons Hotel Caracas (formerly a Four Seasons Hotel); Four Seasons Hotel Mexico City; Four Seasons Hotel Houston; Le Quatre Saisons Montréal (formerly a Four Seasons hotel); Inn on the Park Houston (formerly a Four Seasons hotel)
Birthplace
Education
Master of Law, University of Paris, France; Hospitality Management, Institut de Management Hôtelier International (Cornell-ESSEC), Paris, France
Languages Spoken
"Vibrant, spectacular, this city just exudes energy."  This is how Yves Giacometti, Regional Vice President and General Manager of Four Seasons Hotel Cairo at Nile Plaza describes the 5000-year-old ancient city of Cairo.
"When it comes to getting a feel for a new city, I try to get everything I can from interactions with locals. The quicker I adapt to their world, the better." His last visit to Egypt was some years ago when he visited for a family vacation. "A lot has changed for the better, the city has expanded with impressive modern developments in both east and west of the city." However, one thing has remained the same according to Giacometti: "The warmth of the Egyptian people, their hospitality, big smiles and even bigger hearts is something my family and I cherish."
For Giacometti, his move to Cairo was a dream come true – especially the Hotel. An iconic landmark on the banks of the River Nile, its architectural expression establishes a strong skyline image. The award-winning Hotel, which opened in 2004, is reminiscent of some of the world's grand hotels. Boasting 365 rooms and suites, most with private terraces overlooking the Nile, nine international dining options, an acclaimed Spa, and impressive banquet spaces, the Hotel's stellar and leading reputation in the local and the regional markets speak for themselves.
Raised in Paris and well-travelled from an early age, Giacometti earned a master's degree in law before studying at hotel school in Paris. Upon graduation he was courted by many major hotel groups and chose Four Seasons because of its philosophy. "Back in 1985, the company was almost totally unknown, but the way it transmitted its desire for excellence and quality was very exciting to me." Soon he was off to Houston, the first of many posts.
With six cities on four continents on his Four Seasons résumé, Giacometti knows how to go about fitting in. He embraced local culture with a passion while doing double duty as General of Four Seasons properties in Buenos Aires and Carmelo, and was most recently at Four Seasons Hotel Gresham Palace Budapest. Giacometti is pleased with his appointment as General Manager of Four Seasons Hotel Cairo at Nile Plaza and Regional Vice President of Four Seasons in Egypt, overseeing an impressive number of Hotels – Four Seasons Resort Sharm El Sheikh and Four Seasons Hotel Alexandria at San Stefano, in addition to a pipeline of additional hotels and projects coming up.
 "We have exciting plans for a portfolio expansion with our owners Talaat Mostafa Group (TMG), who have long been an integral development partner and we are excited to continue our close work together providing guests and residents and unmatched luxury experiences in Egypt. Four Seasons entered this important destination and it marked Four Seasons brand's entry in Egypt and the Middle East more than two decades ago," adds Giacometti.
In 2025, Four Seasons Hotel and Private Residences New Cairo Capital at Madinaty is set to open, set on 185 hectares (460 acres) it will be a captivating destination for those who wish to visit the ancient metropolis of Cairo and effortlessly explore the modern extension of the iconic capital city.
A new development close to Giacometti's heart is the highly anticipated Four Seasons Luxor in one of the country's most storied destinations; this impressively historic city acts as an open-air museum with some of Egypt's finest artifacts on grand display throughout.  The Hotel will include 200 guest rooms and suites, each with views of the Nile River, the Valley of the Kings and the Valley of the Queens and will be located just south of the highly acclaimed Luxor Temple, which dates back to 1400 BC.
Throwing himself into local culture when he moves to a new city, Giacometti arrived with his family, wife Lorena and young son Mateo who are thrilled to be in Cairo. "I enjoy exploring this fascinating destination with my family. Egypt has a plethora of hidden treasures from the Nile and desert excursions to amazing diving spots – all of which we are so excited to discover."