Back to Main
Grand-Hôtel du Cap-Ferrat, A Four Seasons Hotel
71 Boulevard du Général de Gaulle, Saint-Jean Cap-Ferrat , 06230, France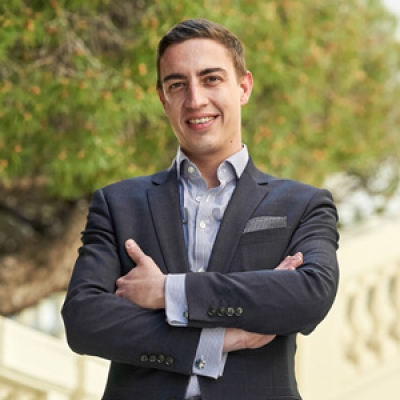 Alessandro Nigro Imperiale
Head Sommelier
"What I do is about more than what goes into the glass and pairs with a meal; it's about creating an experience guests are going to remember."
Four Seasons Tenure
Since 2019
First Four Seasons Assignment: Assistant Head Sommelier, Four Seasons Hotel George V, Paris
Employment History
Four Seasons Hotel George V, Paris; La Dame de Pic, Paris; Domaine Grier, Languedoc-Roussillon, France; Mouline de la Galette-Paris; Villiera Wines, Stellenbosch, South Africa; Associazione Italiana Sommelier, Foggia, Italy; Emidio Pepe, Torano Nuovo, Italy; Trattoria Mo', Foggia; Château Beaumont, Cussac, France
Education
Viticulture and Enology Degree, Università degli Studi di Foggia, Italy; Diplome National d'Oenologie à l'Institut des Sciences de la Vigne et du Vin, Bordeaux; Sommelier Professionista, Associazione Italiana Sommelier, Foggia; Diploma Istituto Tenico e Professionale, Costruzioni Aeronautiche, I.T.I. Da Vinci, Foggia
Birthplace
Languages Spoken
"I really felt ready for new responsibilities and a place to share my passion and selections," says Alessandro Nigro Imperiale of what led him to become Head Sommelier and extend the offerings from the wine cellar of Grand-Hôtel du Cap-Ferrat, A Four Seasons Hotel. The role of Sommelier has evolved over the past decade, even in France, he adds. "Ten years ago, customers here were drinking primarily French wines because they were on the French Riviera. Now their curiosity has broadened to wines from across Europe as well. The Grand-Hôtel noticed it, and here I am."
Arriving on the Cap-Ferrat peninsula jutting into the Mediterranean Sea in early 2022, Alessandro began working with management, including the Grand-Hôtel's food-and-beverage-savvy General Manager, to deepen the wine collection with stellar selections from Italy, Spain and Portugal. "The GM told me that it is really our purpose to find gems from other countries, and that was just what I wanted to hear," he remembers. "A Sommelier's foundation is having experience beyond borders and an ability to share it."
Alessandro also works closely with Executive Chef Yoric Tièche to be certain that the wines he recommends pair splendidly with dishes on the menus of the Grand-Hôtel's Michelin-starred signature dining experience Le Cap and other outlets. He strongly believes his wine choices should follow the Chef's culinary philosophy, and is greatly expanding the selection of wines by the glass ­– French and otherwise – to show how intricate that philosophy is.
He also coordinates with the Head Barman to get to know and lend his expertise to the Grand-Hôtel's cocktail programming, such as the popular Garden Cocktail menu of Le Bar inspired by fragrant herbs, fruits, and edible flowers grown in onsite gardens. "Sommeliers nowadays are expected to be interested in everything," he says, adding with a laugh, "That sounds like me! Working with the bar and room service teams is the best way for me to stay on top of what customers are looking for these days."
Alessandro dove into wines at the age of 18 while waiting tables at an Italian trattoria in Puglia, not far from his hometown of Foggia in southern Italy. Driven by inspiration, he put his mind to earning a sommelier certificate, and then headed off to vineyards in Italy, the Bordeaux and Languedoc-Roussillon regions of France, and Stellenbosch, South Africa, to work hands- and palate-on as an assistant winemaker.
The experiences were something he believes any sommelier – aspiring or professional – would benefit from. "Working at a vineyard gives you an extra level of expertise, not only for professional benefit, but also to impress customers at the table."
Following his time in South Africa, Alessandro found his way to Paris, first with a turn at La Dame de Pic, whose Michelin-starred chef now creates the signature dining experience at Four Seasons addresses at Ten Trinity in London and Megeve in France; then at Four Seasons Hotel George V, Paris, where he spent nearly three years as Assistant Head Sommelier of the trendy, Michelin-starred Italian-Mediterranean Restaurant Le George. If all that weren't enough, he was also awarded the top honour as the Best Sommelier in Puglia 2019 from Associazione Italiana Sommelier, and he participated at the Best Italian Sommelier 2021.
Alessandro was crowned Best Sommelier of Italy 2022 and named Sommelier of the Year 2023 by French restaurant guide Gault & Millau.
Wherever he is, Alessandro's practiced approach at the table inevitably begins with a hearty "Buongiorno!" to give his customers a good feeling before moving into wines that might interest them. Those can be different depending upon the moment – fruity one night, dry the next – and the only way to find out is through conversation. "Like every member of my team, I am here to accompany our customers at the table," he explains. "What I do is about more than what goes into the glass and pairs with a meal; it's about creating an experience guests are going to remember."
Not surprisingly given his enthusiasm for all things vinous, Alessandro tastes incessantly to get to know domains and producers, and spends weekends and the off season visiting vineyards and discovering new restaurants as he can. "I really need the connection with producers and chefs to understand every development that comes along," he says. "I really love everything about wine: It just recharges me."