Back to Main
Grand-Hôtel du Cap-Ferrat, A Four Seasons Hotel
71 Boulevard du Général de Gaulle, Saint-Jean Cap-Ferrat , 06230, France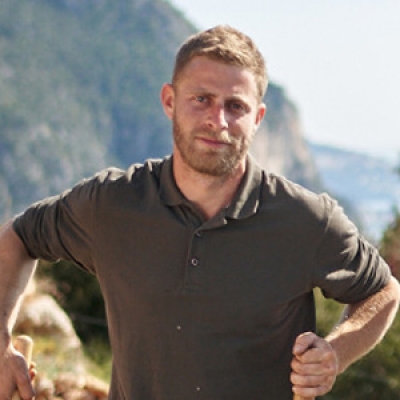 Bastien Bosio
Maraîcher
"The more I grow in the garden, the more it inspires the culinary team."
Four Seasons Tenure
Since 2022
First Four Seasons Assignment: Current
Employment History
Dream Garden Riviera, Nice, France; deckhand on yachts cruising the Mediterranean Sea; Croc Farm and Floribis, Madagascar
Education
Baccalauréat, Parc Impérial, Nice; Bachelor of Science, Biology, Valrose Université, Nice
Birthplace
Languages Spoken
French, English, a bit of Spanish
Though Grand-Hôtel du Cap-Ferrat, A Four Seasons Hotel opens for the season each year in April, the property is a beehive of activity long before that. Buzzing along earlier than most is Bastien Bosio. "My season starts in December and keeps going," he says of his role as Maraîcher (Market Gardener) of the property's dedicated offsite vegetable garden. "I'm the only one out here working the soil, so there is always something to keep me busy."
What keeps Bastien busy is a cliff-top plot bathed in sunlight and blown by sea breezes from the Mediterranean below. Located in Beaulieu-sur-Mer, just west of the French-Italian border and about 15 minutes from the Grand-Hôtel du Cap-Ferrat, the terraced and stonewalled garden took root in 2021 with the enthusiastic support of General Manager François-Régis Simon and Executive Chef Yoric Tièche. The idea is to grow garden-to-table ingredients for the menu of Michelin-starred restaurant Le Cap.
Arriving in 2021, Bastien promptly made the garden his own, practicing permaculture, a "pure" form of farming that relies upon the natural ecosystem instead of pesticides. "Those are forbidden in our garden." His aim is to produce as much fresh, seasonal produce as possible. "I'm growing for taste and quality, not visual appeal, and I prefer diversity. The more I grow, the more it inspires the culinary team."
Grow he does, planting all the "classics" – tomatoes, peas, corn, lettuce, cucumber – as well as more diverse selections including edible flowers, beetroot, and blue and white borage. "The chefs love it," he says of the last, also known as starflower. "It tastes like oysters." Bastien plants an array of herbs and spices including mustard, mint, and shiso to lend citrusy accents to sushi. He also produces peaches, lemons, oranges, strawberries, and other fruits, as well as olives. "Oh, yes – 20 trees."
There is space for much more. When he arrived, the size of the garden doubled to 3,200 square metres, and it will eventually grow to twice that offering a ready supply for Grand-Hôtel du Cap-Ferrat's four-outlet dining and drinking experience. "I might need some help then," he says, laughing.
Relied upon by the kitchen, Bastien regularly discusses his work with Chef Tièche. "I always let him know what I'm doing to be sure he's okay with it." Otherwise, his days are long – sunrise to sunset – but never lonely. "I can see three cities from here: Saint-Jean Cap-Ferrat, Villefranche-sur-Mer, and Beaulieu-sur-Mer!"
It took a few steps for Bastien to land with Four Seasons and the Grand-Hôtel on the Cap Ferrat peninsula. Born and raised along the Mediterranean in Nice, where he still makes his home, he studied biology for a couple of years before taking his apprenticeship at a seaweed, crocodile farm and vanilla culture in Madagascar. "The owner was French. He was growing seaweed for toothpaste and shampoo. It was very interesting work."
Still in his early 20s, Bastien returned to France and, after finishing his degree, took jobs as a deckhand on yachts cruising the Mediterranean coast. The work was gruelling – "18 hour days; no time for sleep or family or fun" – but he held on for six years, soothed by winters off and memories of travel from his mother who owns a travel agency.
Returning to land at last, Bastien launched his own garden business catering to private properties around Nice and saw success for a couple of years. Then a best friend told him he'd heard from his neighbour – Chef Tièche – that the Grand-Hôtel was looking for a gardener. "He told the Chef he knew the perfect guy – me!" The two connected for a nice conversation and everything clicked. "I'd always dreamed of being the best farming guy in the region. The fact that I landed an opportunity at the best luxury hotel is amazing."
Bastien seems to spend as much time outdoors off the job as he does on, hunting for wild mushrooms at his a little house in the Vésubie Mountains and fishing as time allows. "When I was younger, my family used to go camping and try to catch trout in a lake, but I'm too busy for that now," he says. "I'm fortunate that my father and I still have a little boat together and the Mediterranean right here."