Back to Main
Grand-Hôtel du Cap-Ferrat, A Four Seasons Hotel
71 Boulevard du Général de Gaulle, Saint-Jean Cap-Ferrat , 06230, France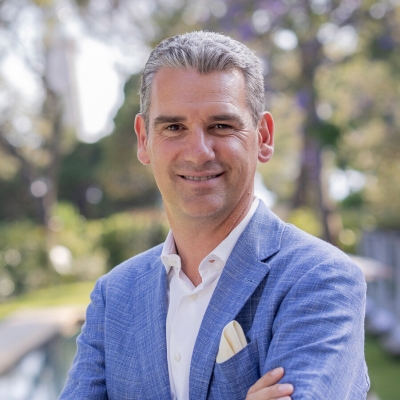 François-Régis Simon
General Manager
"The expectations of our guests are very simple: they want to relax and have some time with their family. Time is a luxury in their lifestyle and we need to make sure they enjoy it at every single opportunity."
Four Seasons Tenure
Since 2003
First Four Seasons Assignment: Assistant Director of Room Service, Four Seasons Hotel George V, Paris
Employment History
Four Seasons Hotel Shenzhen; Four Seasons Hotel Hong Kong; Four Seasons Hotel George V, Paris; Hyatt Regency Hotel Roissy Charles de Gaulle, Paris; Park Hyatt Carlton Tower, London
Birthplace
Education
Brevet de Techinicien Supérieur, Hotel Management School of Dinard; Masters, Hotel Management School of Strasbourg/University Robert Schuman
Languages
French, English, working knowledge of German
Never before has a hotel entered the Four Seasons portfolio in the manner of the furthermost address on Saint-Jean-Cap-Ferrat. And never before has François-Régis Simon been a General Manager. Put the two together and what does a traveller get? A matchless hospitality experience destined to become even more so at the Grand-Hôtel du Cap-Ferrat, A Four Seasons Hotel.
"When you run a legendary hotel like this, you don't want to mess with it," says Simon, who took the helm of the historic palace in May 2015. "This is not a cookie-cutter property. It has been stunningly well maintained and every team member contributes to a superior guest experience. The only difference is that now, they are part of the family of dedicated Four Seasons staff around the world.'"
Simon's French Riviera adventure began, of all places, in a rickshaw in Tiananmen Square. Touring Beijing with his wife and young sons during a break from his previous position as Hotel Manager of Four Seasons Hotel Shenzhen, he received a call from Christian Clerc, who heads Four Seasons hotel operations for Europe, the Middle East and Africa. The company was planning to expand its French footprint with the Grand-Hôtel, Clerc said, might he be interested? "I told my family I had to take the call," Simon recalls, chuckling.
Simon arrived at his new job right at the start of high season with the Hotel fully booked and the staff – more than 90 fulltime plus 250 seasonal – clicking their heels and doing what they do best.
The first enhancement made under Simon leadership was to plug the Grand-Hôtel into Four Seasons reservation system. And that was pretty much it. "Usually our development strategy is to take over existing properties, renovate and reassess," he says. But the Grand-Hôtel had a complete renovation in 2009 and remains immaculate. "Everything is up and running beautifully here."
Born and raised in a middle-class family in Brittany, Simon was drawn to hospitality at a young age. His mother is a very talented home cook, and both his brother and an uncle are chefs. "We would gather the family and linger over lunch and dinner talking about problems, education, world events, everything," he recalls. "I am in this business because of my passion for food. I love having friends and family around and accommodating them."
After earning a graduate degree in hotel management in Strasbourg, Simon took his first hotel job in London, the better to hone his English. He then returned to France and, after a step back from his position with another international hotel company, landed as Assistant Director of Room Service at Four Seasons Hotel George V, Paris. He rose steadily for seven-and-a-half years to Director of Food and Beverage before departing for the same position at Four Seasons Hotel Hong Kong. "I'd always had an interest in Asia because of the lifestyle. I practice karate and had hoped to work in Japan, but Hong Kong was perfect for me – at the time it was the only hotel in the world with six Michelin stars."
Two years later, at the start of 2013, he became opening Hotel Manager of Four Seasons Hotel Shenzhen, another significant step in his career. "I had to interview everyone through a translator and learn about rooms and the front office from scratch. It was a great opportunity. The Hotel became very successful pretty fast, and I can look back at the role I played introducing Four Seasons culture into the market."
Taken together, Simon's Four Seasons career path prepared him remarkably well for his role at the Grand-Hôtel. The Hotel's Executive Chef has a Michelin star, and Simon already knows many of the guests from his time at the George V back in the '00s. One is the city, one is the coast, "but both hotels have the same standards," he says. "The kindness of the staff, their willingness to serve, and the beauty of this site is what draws our clientele from Paris to Cap-Ferrat."
When he's not on call as "the soul" of the Grand-Hôtel, Simon is "a family man, first of all." His wife, a Four Seasons veteran, is his "first fan," and he enjoys sports and recreation with his two boys, as well as teaching them the values he learned himself.
"No pain, no gain," he says. "Never give up to achieve what you desire." It sure seems to have worked for Simon.