Back to Main
Grand-Hôtel du Cap-Ferrat, A Four Seasons Hotel
71 Boulevard du Général de Gaulle, Saint-Jean Cap-Ferrat , 06230, France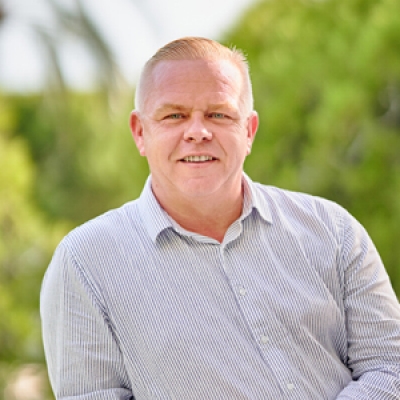 Johann Burgos
Director, Club Dauphin
"It's all about creating lasting memories and relationships. These days, we're serving the grandchildren of guests who first came here generations ago."
Four Seasons Tenure
Since 2004
First Four Seasons Assignment: Chef Barman, Four Seasons Hotel George V, Paris
Employment History
Four Seasons Hotel George V, Paris; Hotel du Louvre, Paris; Hotel Normandy Barrière, Deauville, France; Bar Hemingway, Hotel Ritz Paris; Warwick International Hotels; Restaurant Dagorno, Paris
Birthplace
Languages Spoken
From gleaming cities to hidden gems, there is no end of inviting spots to while away afternoons and evenings at leisure along the French Riviera. Yet for a real taste of the luxury and exclusivity that epitomize the region, few measure up to Club Dauphin, the sun-splashed restaurant overlooking the Mediterranean Sea from the sparkling pool at Grand-Hôtel du Cap-Ferrat, A Four Seasons Hotel.
Keeping people coming – and coming back for more – is the role of Johann Burgos. Under Burgos's direction Club Dauphin has become a real destination not only for international guests of the Grand-Hôtel, but also for area residents seeking a relaxed and inviting scene to reconnect with each other, friends, and the beauty of the coast.
"We have really focused on those desiring someplace quiet and attractive right nearby," he explains, noting various factors such as major building renovations in Monte Carlo that have spurred locals, in particular, to seek out Cap-Ferrat. "It's all about creating lasting memories and relationships," he continues. "These days, we're serving the grandchildren of guests who came here generations ago."
Since joining the Grand-Hôtel before the start of the 2016 season, Burgos has focused on creating a truly distinctive scene at Club Dauphin. Key to that is Four Seasons renowned service, of course: "Sometimes service can a bit low level in the Riviera. We're in a class by ourselves here with that."
Meanwhile, Burgos keeps his team on top of various restaurant and cocktail trends but goes further, challenging the Club's bartenders to get creative with ingredients from the Grand-Hôtel's fragrant gardens. "I'll tell them, 'I found some rosemary today, let's use it for a sangria for lunch tomorrow,' and let them have at it. We'll make what they come up with the 'cocktail of the day,' and I'll insist they take it directly to the tables and talk it up to the guests. We have a lot of good, easy sells that way."
Among notable successes along those lines is the "Club Spritz," an exclusive cocktail fashioned by Burgos and the Club's Chief Barman Frank Carcamo that captures the signature fragrances and flavours of the Côte d'Azur through house-made bitters.
Burgos got the idea for Club Spritz observing guests ordering the iconic Italian cocktail Aperol Spritz. The secret of a spritz is the bitters, he says, so the new cocktail began with a birch barrel submerged in the Mediterranean for 24 hours. Following desalination with fresh water, the barrel was filled with homemade bitters, then shaken and turned daily for two weeks to impregnate it with concentrated aromas. Finally, the elixir was discarded and the barrel was refilled with new bitters and aged for a full year at Club Dauphin.
Result? The pure essence of the Côte d'Azur extracted from the Hotel's gardens and the Mediterranean Sea. "It was storytelling in the glass – our guests went crazy for it," Burgos recalls. He plans to add a new cocktail with different house-made bitters to the menu every year. "I have another barrel of oak filled with rosemary and dried grapefruit aging underground in our gardens right now."
Good food and drink have long been a passion for Burgos. Growing up in Paris, he regularly dined out with his family. "I have distinct memories of sitting 10 at a table in big brasseries for Sunday lunch. Escargot has always been in my life."
He started working in brasseries and nightclubs as a teenager, and quickly realized that he preferred the atmosphere of a bar where he could communicate with "and learn from" guests more intimately. He took his growing talents to the hotel scene, including Hôtel Ritz Paris, where he worked at Bar Hemingway, and Hotel du Louvre, where he furthered his knowledge of whiskies and became head barman for the first time. "The bar there was down to no guests when I arrived, so we created a buzz with Saki and seasonal cocktails."
Finally, in 2005, the manager of Four Seasons Hotel George V, Paris who had been a customer at Bar Hemingway, reached out with an offer for Burgos to become the Hotel's head barman. Burgos spent four "fantastic years" in the role creating a distinctive bar culture for the Hotel while training new bartenders, creating innovations to wow guests, and further honing his own management skills.
When a bartender that he had trained was honoured with a Meilleur Ouvrier de France, Burgos took it with pride and in stride, becoming Director of La Galerie before moving on to open CUT by Wolfgang Puck at Four Seasons Hotel Bahrain Bay. "I had no clue of the culture and was totally out of my comfort zone in Bahrain, but I liked the lifestyle. It was a good change for me at the right time."
Now at home in France again, Burgos enjoys combing small village markets for fresh fruits and vegetables, enjoying the night life in bigger cities along the coast, and catching up with clients he got to know so well over his years as a bartender. "It's nice, because I get to see all of my Parisian guests again, but now they're in flowery shirts and bikinis."