Back to Main
Grand-Hôtel du Cap-Ferrat, A Four Seasons Hotel
71 Boulevard du Général de Gaulle, Saint-Jean Cap-Ferrat , 06230, France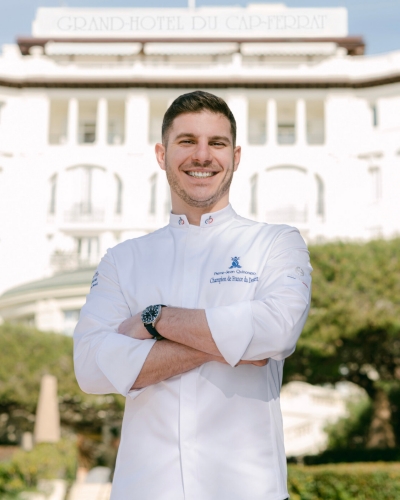 Pierre-Jean Quinonero
Executive Pastry Chef
"I like to put modern spins on things, maximizing visuals and minimizing sugar."
Four Seasons Tenure
Originally hired 2015; now since 2023
First Four Seasons Assignment: First Commis, Four Seasons Hotel George V, Paris
Employment History
Burgundy Hotel, Paris; Four Seasons Hotel George V, Paris; Château des Ferrière, Ferrière-en-Brie, France; Hotel de Paris, Monaco; Le Metropole Palace, Monaco; Hotel Le Negresco, Nice, France; Royal-Riviera Hotel, Saint-Jean-Cap-Ferrat, France; La Chevre D'Or, Eze Village, France
Education
Bachelors Degree, Hotel Technology, Lycee Hotelier de Chamalières, France
Birthplace
Languages Spoken
As Executive Pastry Chef, Pierre-Jean Quinonero brings extensive experience and yet refreshingly simple inspirations to the pastry kitchen of Grand-Hôtel du Cap-Ferrat, A Four Seasons Hotel. "I try to create things that reflect our restaurants, our teams, and the ingredients," he says of his role at the historic property overlooking the Mediterranean Sea. "Like our Executive Chef, I'm really big on seasonality and what it means for tastes, textures, and appearances. We share the same passions: My work complements his."
Arriving in Saint-Jean-Cap-Ferrat in spring 2023, Pierre-Jean had already done a lot of research and promptly fashioned new dessert offerings to pair with the modern twists on Provençal and Mediterranean cuisine and the understated elegance of the Hotel's signature dining experience Michelin-starred Le Cap.
For the chic bistro La Véranda surrounded by coastal foliage, sun-drenched Club Dauphin by the sparkling pool, and banquet-style events such as sumptuous wedding receptions held in the Hotel's verdant, flowering gardens, Pierre-Jean turns inward, revisiting traditional French pastries he has mastered over his brief but demanding career. "We have a big tradition of pastries here in France, you know," he asserts with a laugh. "I like to put modern spins on things, maximizing visuals and minimizing sugar."
Minimizing, indeed. Pierre-Jean prefers to use sugar "as a seasoning," and he only touches refined sugar when it's essential, such as for caramel. Too often, pastry chefs use sugar instead of fruit to save money, he says. "But nothing throws off balance like sugar. I have so many other naturally sweet things to work with here."
Those include fragrant herbs and spices, fruit trees and edible flowers from the Hotel's 17-acre garden; an array of regional produce from a terraced and stonewalled garden located offsite; and all of the above from local markets along the coast. "We are all using the same ingredients," he says of his pastry kitchen's connection to Hotel's broader culinary and bar teams. "The flavours are distinct, but the essences are the same."
Pierre-Jean's pastry team is peopled with young, ambitious talents who "get along like family," including four who joined after working with him in Paris because they wanted to stick together. He endeavours to be caring and encouraging, and to give everyone autonomy to make their own decisions and the confidence to make them assuredly.
Hailing from Auvergne, a mostly rural, mountainous region of central France, Pierre-Jean was inspired to the "wonderful world of gastronomy" by his parents, with his father running a wine business and his mother "a great cook," especially of pastries. He grew up in Thiers, a historical centre for cutlery, where he got into gardening and nature as a youngster, experimenting with plantings to see what grew best.
Never much of a student, Pierre-Jean decided to focus on hospitality in high school. "That's where I discovered the detail and organization required for pastry. As a craft, it is very precise, and that really fired my passion."
He kept that passion roaring while working his way up in pastry kitchens across the south of France. Then he headed north to join Four Seasons in Paris as a pastry cook at Le Cinq Restaurant before moving on to Château des Ferrière. He later returned to Four Seasons Hotel George V, Paris with encouragement from Pastry Chef Maxime Frédéric, who invited him to work at Le George.
Finally, in 2021, Pierre-Jean took on his first assignment as Pastry Chef at Hotel Le Burgundy in Paris, his last stop before returning to Four Seasons to the Grand-Hôtel du Cap-Ferrat. He cooked up his share of accolades along the way, most recently a Passion Dessert prize from the Michelin Guide 2023, as well as Pastry Chef of the Year 2023 from La Liste.
Now right at home at Grand-Hôtel du Cap-Ferrat, Pierre-Jean draws inspiration from the beauty and culture of the coast and barely misses city life at all. "There are no traffic jams here, and I'm very happy to have the luxury of space, serenity, and fresh air again," he says. "I couldn't ask for a better neighbour than the Mediterranean Sea."