Back
Uncharted Discovery 2023 Four Seasons Private Jet Experience Stops in Bogota
November 8, 2023,
Bogota (Casa Medina), Colombia
Four Seasons Private Jet Experience takes travellers to the skies and across the Americas and Antarctica with Uncharted Discovery from November 30 to December 20, including a stop at Bogota, Colombia's lively capital city. In the span of 21 days, guests can embark on a cultural discovery journey across seven captivating destinations: New Orleans, Costa Rica, Machu Picchu, Buenos Aires, Antarctica, Bogota, and the Bahamas.
The most recent Four Seasons Private Jet Experience in Bogota took place during World of Adventures in September 2023, where guests explored the city for three days, and once again from December 15 to 18, 2023 with Uncharted Discovery. Upon arrival, guests will be greeted by a welcome reception at Four Seasons Hotel Casa Medina Bogota featuring live Caribbean music and Colombian appetizers. Highlights of the itinerary include a fashion tour, salsa classes with a private instructor, and a helicopter trip to the municipality of Nemocón and its salt mine – all details arranged by Four Seasons Concierge.
Guests can celebrate with fellow travellers through a colourful cocktail party with Feria de las Flores (The Flowers Festival) as its theme. This annual festival consists of an intricate flower parade featuring dozens of silleteros (flower vendors) carrying precious flower arrangements on their backs through the streets of downtown Medellin as a highlight of a week-long celebration to spotlight one of the main agricultural activities in the region. As well, this tourist attraction pays homage to the biodiversity of the Municipality of Santa Elena and the surrounding areas, where the plants are grown.
Other highlights of the journey include a discovery of the jazz scene in New Orleans and its Creole gastronomy, followed by a yoga retreat amid the golden shores and tropical jungles of Costa Rica to connect with nature and experience a taste of its local rums and chocolates. In Peru, guests can check a UNESCO World Heritage site off their bucket list with a visit to Machu Picchu and experience Riusco's historic value and the salineras (salt evaporation ponds) of the small town of Maras. In Argentina, guests can enjoy a concert in the beautiful Teatro Colón in Buenos Aires, a tango session, and an Argentinian traditional barbecue lunch and gaucho show in one of the oldest ranches in the countryside near the city. In the neighbouring country of Chile, guests will stay overnight in Punta Arenas, the gateway to Antarctica, to board a ship the next day from King George Island to embark on an expedition to the "seventh continent." The final stop is in the Bahamas, where plans to relax and recharge await, from indulging in signature spa treatments, a day of golfing, or sunbathing in the pool or beach, to relaxing in the spa. To discover more of this Caribbean hideaway, guests can opt to extend their stay for a few more days of relaxation on Paradise Island.
​​The Four Seasons Private Jet Experience has been perfected over the years for the modern traveller to include a seamless journey from start to finish. Upon booking, a Private Jet Guest Services Manager is assigned to each traveller to guide them along every step of the way. With the help of a Four Seasons concierge, guests can customize their itineraries with alternative experiences that pique their interest, including convenient services such as arranging door-to-door luggage, assistance with visas, and travel forms for a hassle-free security process. In-flight, fine dining is the ultimate amenity. A culinary adventure awaits with a menu crafted by Executive Chef Kerry Sears, including destination-inspired meals that celebrate the diverse flavours of each region. "Starting out, guests are adventurous. But after maybe the second or third stop, they're looking for more of a taste of home," says Kerry. "As we travel, I get to know them more, which allows me to adjust as we go and really make it a personalized trip." For some, that turns out to be a smoked salmon sandwich, while for others, it's a formal four-course meal.
Every Four Seasons Private Jet itinerary includes all flights aboard the fully customized, 48-seat Airbus A321neo-LR plus luggage coordination and ground transfers; accommodations in Four Seasons hotels and resorts, or, in more remote locations, at establishments carefully selected by Four Seasons; all planned excursions, activities and meals; and 24/7 service by an inflight journey team that includes a concierge, journey physician as well as on-the-ground Four Seasons local experts.
A Lounge in the Sky
This communal area acts as both a social gathering spot, and the stage for on-board programming led by Four Seasons craftspeople ranging from educational presentations to sommelier-led wine tastings, wellness workshops and other surprises. Additional features include spacious bathrooms, and an enhanced in-flight entertainment system, customized App for passengers, and multi-connectivity at each seat.
Limited Space Available on 2024 Itineraries
Seattle – Kyoto – Bali – Seychelles – Rwanda – Marrakech – Bogota – Galapagos Islands – Fort Lauderdale
This trailblazing voyage takes travellers across four continents that includes a three-night Galapagos island-hopping expedition on a private ship, a rafting adventure on Bali's longest river, and an unforgettable trek through the forested slopes of the Virunga Mountains to witness Rwanda's mountain gorillas. Previously ending in Miami, as of 2024 this itinerary will conclude at Four Seasons in Fort Lauderdale.
To book Uncharted Discovery taking place November 30 to December 20, 2024 and start planning your next Four Seasons Private Jet Experience, click here.
About the Four Seasons Private Jet Experience
Learn more about the Four Seasons Private Jet Experience and follow the #FSJet hashtag on Instagram for the latest and to continue exploring the custom-designed Four Seasons Private Jet.
The Four Seasons Private Jet Experience is operated by TCS World Travel, dedicated to delivering immersive, worry-free travel experiences for the globally curious and modern luxury traveller. The aircraft is operated by Titan Airways. For more information from the industry leader in private jet journeys, click here.
---
---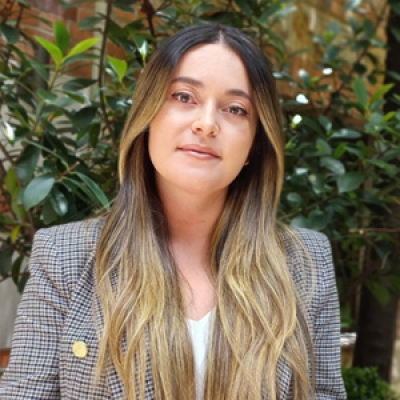 Laura Quintana Niño
Cra 7 No. 69A-22
Bogotá DC,
Colombia
---
Four Seasons Hotel Casa Medina Bogotá
PRESS KIT

Visit Four Seasons Hotel Casa Medina Bogotá Website