Back
A Sweet Colombian Touch: The Story of Laura Quintero, Pastry Chef of Casa Medina
Bogota (Casa Medina), Colombia
Laura Quintero is the pastry chef at Four Seasons Hotel Casa Medina Bogota, and of its dining space Castañyoles. As part of the kitchen team at the Hotel, Laura leads the creation and elaboration of baked goods, desserts and amenities. Here is her story and a taste of Casa Medina's take on the delicious world of pastries, breads and all sweet things.
Laura was born in Cartagena, Colombia, but she studied gastronomy at Escuela Gato Dumas in Barranquilla, Colombia, and earned two diplomas in the areas of hospitality from the same school. As a pastry apprentice, Laura was mentored by talented pastry chefs such as Mónica Ríos, Juan Gutiérrez, and Víctor Araque. But it has been in her four years at Casa Medina where she has grown and flourished as a pastry chef. Guided by Miguel González, Castañyoles' Chef de Cuisine, Laura is now in charge of the pastry team, four years after joining the kitchen staff as administrative intern and working her way up from pastry chef 3 to pastry chef 1.
Innovation and Exquisiteness Through Local Flavours
As the dining space of Four Seasons Casa Medina, Castañyoles focuses on Spanish cuisine. However, the kitchen team enriches this menu with the depth of flavour and aroma of Colombian products, giving a twist to classical cosmopolitan dishes. In the case of pastries and desserts, these include a taste of coffee in a creamy Basque traditional dessert, a cocada ice cream (traditional Caribbean candy made with caramelized shredded coconut and cane sugar), or the favourite Iberian churros served with a passion fruit ganache, to name just a few. There is also a delicate selection of homemade French viennoiserie and European breads that are offered for breakfast at the restaurant and in-room dining, in combination with traditional Colombian baked goods: achiras, mojicones, roscones, pandebonos. And of course, there are arepas, the Colombian iconic grilled corn cakes.
A Big Name Applauds Four Seasons Casa Medina Croissants
The founder and CEO of a world leader company in the bakery café sector visited the Hotel recently, leaving quite impressed with Casa Medina's version of the French classic. Undoubtedly, the technique that the team has developed over time accounts for this assessment: a special flour that helps with the elasticity of the dough, the purity of the butter used (the only one allowed to be used for this recipe), a careful adaptation of the kitchen for the croissants to ferment and rise well, and a folding method that has been practiced once and again to get an excellent texture and flavour. But besides and beyond this daily work to develop a perfect culinary technique for croissants and their relatives, is Four Seasons philosophy that enables special moments and exquisite products, and that impacts in the best way the life of employees such as Laura.
The Stamp of Four Seasons
Evidently, coming from such a personality this was not only flattering for Laura but incredibly motivating and reassuring, a memorable event for the Hotel and a beautiful milestone in Laura's career. The space that the brand has given her to explore her creativity, and to train herself through masterclasses, workshops and forthcoming degrees of specialization, shows how Four Seasons understands hospitality, and its awareness of the fact that human talent and wellness is the ultimate and essential element required to give luxurious, comforting service.
Little Treats Not to Be Missed When Visiting Casa Medina
The offer is generous enough to make sure that everyone finds a good choice. However, Laura recommends some highlights: amenities such as the chocolates filled with a ganache made with Colombian cacao and a gel of aguardiente (popular distilled spirit made with anise), and canelazo (warm infusion of cane sugar paste – panel a- aromatized with spices). Or a cocada dessert that Laura developed on an occasion for the Jet's guests and that became a VIP amenity afterwards. The arroz con leche (rice pudding) perfumed with vanilla and jerez liquor; definitely the Basque Goxua with coconut ice cream and a lime caramelized custard cream; and a torrija española made with a homemade brioche embedded in a syrup infused with a Colombian rum, served with rum ice cream, fresh apricots, and an anglaise sauce made with arequipe (Colombian caramelized milk candy).
By creating these delicacies through the hard but rewarding work that they imply, Laura foresees exciting challenges as part of the crew at Four Seasons - now at Casa Medina, and when the time is right, perhaps at some other Four Seasons hotel where she will keep learning and giving her best for guests to fully enjoy.
---
---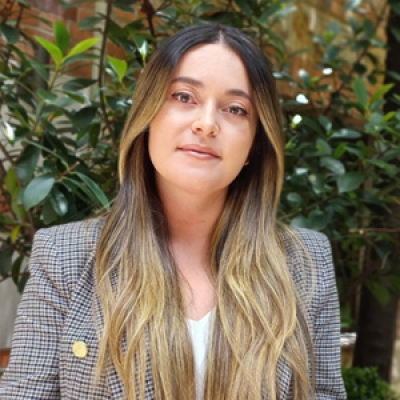 Laura Quintana Niño
Cra 7 No. 69A-22
Bogotá DC,
Colombia
---
Four Seasons Hotel Casa Medina Bogotá
PRESS KIT

Visit Four Seasons Hotel Casa Medina Bogotá Website