Back
Forever Yes: Weddings at Four Seasons Hotels Bogota
At Four Seasons Hotel Bogota and Four Seasons Hotel Casa Medina Bogota, there is a distinctive venue to suit different tastes when it comes to one of the most important possible events of life. That special date can happen to the rhythm of Colombia's most cosmopolitan city with its tropical essence. Our wedding specialists are ready to listen to guests' wishes and dreams, and to work with them to bring them to the world.
Casa Medina, the historic home of Four Seasons, designed by Colombian architect Santiago Medina Mejía, promises an astonishing journey starting with an engagement ceremony and closing with a next-day romantic breakfast. It's great for an intimate dinner with family members, a big evening party, or a fun brunch that can host up to 80 people.
The tone is set by the handcrafted wood-panel walls, arched windows, and stone columns that are the landmark of the building's colonial style. This quietly elegant atmosphere is contrasted in harmony with modern signature Four Seasons style and service, and the possibility to add nuances with indoor and outdoor spaces, impeccably set and decorated. The romantic suite Four Seasons prepares for the newly married couple after sharing such a meaningful commitment with dear ones is not the end, but instead a symbolic beginning of a lifelong journey. Our main featured venues are all suited for this event: the restaurant Castañyoles, showcasing a greenhouse atrium and an outdoor terrace with vertical gardens, completed by contemporary chandeliers and mosaic floors, creating a Mediterranean look; El Virrey, the intimate part of the Castañyoles restaurant, with direct access to the fireplace lounge on the inner courtyard terrace; Los Rosales, exhibiting handcrafted wood panelling, arched windows, parquet floors, and a majestic iron curved staircase; and Casa Medina Ballroom, illuminated with plenty of natural light, warm wooden beams, and panelled columns.
Magical Planning, Unforgettable Details
The experience of a wedding at Four Seasons Hotel means to surround two hearts with a unique spark and their dear guests. Some of the main components of this experience are:
A collection of images with backdrops in which the Hotel and the photographer chosen by the couple work together to capture the ceremony's aesthetics and spirit. The Hotel has plenty of beautiful spaces to make the couple and every guest smile and shine.
For food, a key component of this event, Four Seasons chefs will work with the couple to customize the menu, infusing it with the wonderful aromas and flavours of Colombian coffee, chocolate, fruits, and every fresh local product available. Linens and tabletop décor, china, glassware, and cutlery for the reception are available in the desired style.
Flowers, especially in Colombia, will set the tone of the ceremony. Once the couple pick their dream flowers, Four Seasons will make sure to fulfil the event with their aroma, colour and aura in harmonic balance with the décor and other details. If they have a florist on their own, the Hotel will be happy to work with them to set up the floral setting of a fantasy.
Our luxurious spa will allow couples to relax, and refresh for the wedding. This is not only the ideal preparatory pampering but an occasion to reflect, and to focus on the precious present. Special arrangements can be made for the wedding party as well.
The Hotel can also coordinate the paperwork required to hold the wedding on-site if wanted. If requested, local transportation for guests, and a list of recommended vendors for every need can be provided by the Hotel's wedding specialist.
A full commitment between two people is the pillar of hundreds of details that will be put together to make every part of it memorable.
Four Seasons Loves Honeymooners
Whether you stay at Four Seasons Casa Medina, situated in Zona Gourmet, or Four Seasons Hotel Bogota, situated in the Zona Rosa district, there is an ideal plan for honeymooners (and visiting wedding guests), marked by elegant accommodations, soothing spa moments at the Spa's Couples Suite, and romantic accents. The special treatment Colombian Green Coffee Wrap, a helicopter tour of Colombia's breath-taking landscapes, or a next-day exquisite, charming breakfast are just a few of them.
Casa Medina's wedding treats include amenities such as toast-worthy cava, rose bouquets, breakfast in bed, chocolate-covered strawberries, and late checkout. The Hotel has also designed different options with special features, such as the Happily Ever After, Intimate Wedding, Passion, and Love Birds packages.
These are all signature ideas for engaged couples to build on them and make their deepest dreams come true with an indelible imprint. As our Events Manager Carolina Barragán says, "Let that 'forever' start at Four Seasons Hotel Casa Medina. Together, we will create magic."
---
---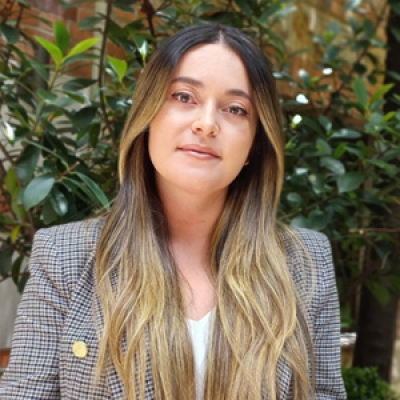 Laura Quintana Niño
Cra 7 No. 69A-22
Bogotá DC,
Colombia
---
Four Seasons Hotel Casa Medina Bogotá
PRESS KIT

Visit Four Seasons Hotel Casa Medina Bogotá Website