Back to Main
Four Seasons Resort Chiang Mai
Mae Rim-Samoeng Old Road, 50180 Mae Rim, Chiang Mai, Thailand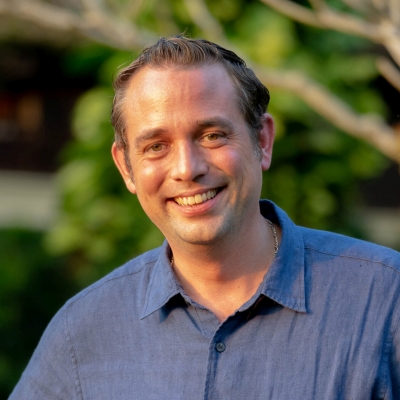 Anthony Tschudin
Resort Manager
"People, product and place are the 3 'Ps to be proud of' – they are what make an experience special!"
Four Seasons Tenure
Since 2019
First Four Seasons Assignment: Four Seasons Hotel Tokyo at Otemachi
Employment History
Four Seasons Hotel Tokyo at Otemachi; Ritz-Carlton Hotel Osaka; Ritz-Carlton Hotel Macau; Siam Kempinski Hotel Bangkok; Shangri-La China World Summit Wing Hotel Beijing; Island Shangri-La Hotel Hong Kong; Shangri-La Hotel Dubai
Education
BSc Management & Hospitality, École hôtelière de Lausanne
Birthplace
Languages Spoken
After a successful launch of Four Seasons Hotel Tokyo at Otemachi – through the pandemic hiatus and subsequent recovery - Anthony Tschudin is all set for the role of Resort Manager at Four Seasons Resort Chiang Mai. Having spent an appreciable part of his childhood in the Philippines and most of his working life in Asia, Anthony considers himself more Asian than European in outlook and temperament. "People here have a distinct warmth and generosity, and I feel like I too have fallen in love with this Asian culture over the years," muses Anthony.
With more than 15 years in the hospitality industry, Anthony's resume is impressive – spanning the breadth of the Asian continent. Starting out as an intern with the Shangri-La Hotel Dubai in 2005, Anthony moved to the Island Shangri-La Hotel Hong Kong as a service manager in 2007 where he cut his teeth across various assignments. His first leadership role came when he was promoted to assistant director of food and beverage at the China World Summit Wing Hotel in Beijing. It is at this Shangri-La flagship hotel that he learned the business aspects of hospitality, and how to manage personnel effectively.  A self-confessed stickler for detail, Anthony likes to lead by example and is very hands-on with his leadership style. "I like to put myself at the forefront when the crunch is on," he says.
Building on his Asian portfolio, Anthony moved to Bangkok as food and beverage director with the Siam Kempinski Hotel in 2014, and then to Macau with the Ritz-Carlton Hotel, as executive assistant manager food and beverage in 2016.
"This is a brand that is built by the people who work here," says Anthony, about his stint with Four Seasons. "People are made to feel that they matter, and this helps build a strong sense of team and togetherness. Anthony enjoys the diversity of Thailand and making a meaningful connection with his wife's home. "People, product and place are the 3 'Ps to be proud of' – they are what make an experience special!"