Back to Main
Four Seasons Resort Chiang Mai
Mae Rim-Samoeng Old Road, 50180 Mae Rim, Chiang Mai, Thailand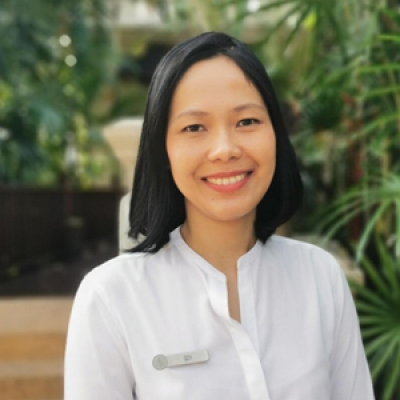 Saowapa Thumapun
Director of Spa
"Learning is a life-long journey – whether it is through education, practice or self-awareness."

Four Seasons Tenure
Since 2022
First Four Seasons Assignment: Current
Employment History
Amankora Bhutan; Trisara Phuket Thailand; Six Senses Yao Noi and Phang-nga Thailand; Six Senses Sanctuary Phuket Thailand  
Education
Bachelor of Science (Physiotherapy), Faculty of Allied Health Sciences Chulalongkorn University; Master of Science (Sports Medicine), Faculty of Medicine, Chulalongkorn University; Master of Science (Management), Graduate School of Advanced Technology Management, Assumption University
Birthplace
Languages Spoken
Saowapa Thumapun – nicknamed Goy – is no newcomer to the world of luxury spa, health and wellness. Her tenured career in the hospitality industry has been a fine balance of being inspired by the sea and the mountains, having spent time at various wellness-focused resorts. Having started at the Six Senses Sanctuary Phuket in 2010 as naturopath, she was soon promoted to assistant spa manager and naturopath at the Six Senses Koh Yao Noi. She returned to Phuket for a four-year stint as spa manager for the Trisara Resort, following which she followed the mountains' call to Amankora, Bhutan, where she was spa manager for a little more than two years.
For Saowapa, "learning is a life-long journey," having chosen to expand her knowledge in the world of wellness as it evolves. "Whether it is through education, practice or self-awareness, learning is crucial," she shares. Starting out with a Bachelor of Science in Physiotherapy and a Masters of Science. in Sports Medicine (both from Chulalongkorn University), she continued to receive an Advanced Diploma in Nutritional Medicine from the Australasian College of Natural therapies in Sydney, Australia. She has recently completed a Masters of Science in Management to brace herself with the fine balance of art and science of business management.
Equipped with an international perspective on wellness and health, Saowapa is among the hills and lush tropics once again as she takes on a critical role at Four Seasons Resort Chiang Mai, which is at the threshold of launching a full-fledged wellness program that has been developed over the past five years.
Outside of work, there are many things Saowapa enjoys doing - running, cycling and of course, learning new skills. A "food is life," there's plenty to explore in all aspects in Chiang Mai. "I enjoy not just bringing my knowledge to the experiences here, but also learning from the rich history of the Resort, its people and the region," she smiles. "As health and wellness become a focus for everyone, it is the perfect opportunity for us to position ourselves among the trailblazers in luxury hospitality."